Click here to get free hot dog business lessons by email.

One of a Kind Hawaiian Hot Dog Cart For Sale. Turn Key Business!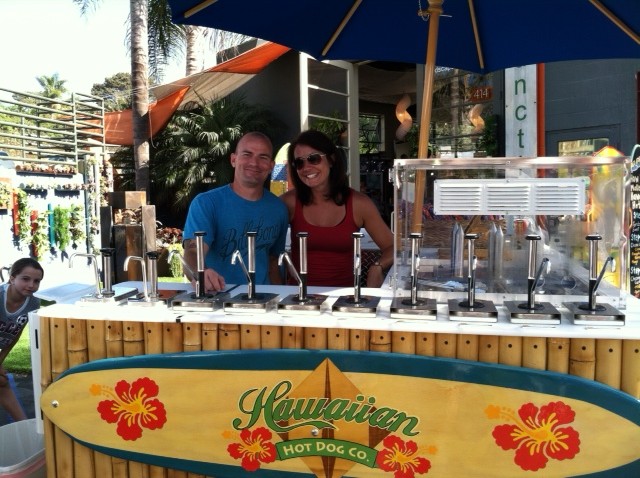 Read this now. Don't book mark it for later. Time sensitive doesn't even begin to describe this.
You are looking at a totally unique mobile food concept that you can literally step into and start selling tomorrow.
You may remember Derek Falk, the owner of the Hawaiian Hot Dog Company. He built this rig from my E-Z Built Hot Dog Cart Video and Plans Package.
When I saw the pictures I was totally blown away and so were my readers. We got more raving comments on this cart than just about anything we've ever published.  Everyone LOVES it!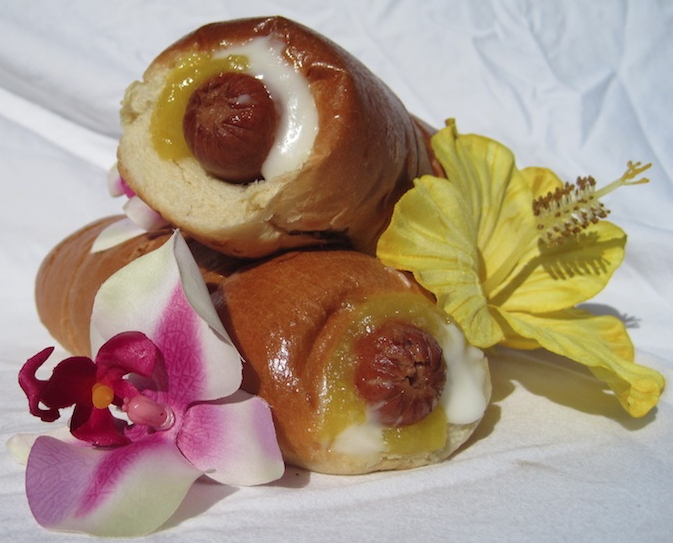 Not only is the cart one of a kind, the product is too.  The Hawaiian Hot Dog is unique.  Start with a round sweet Hawaiian bread roll, toasted from the inside out on a 275 degree spike. Next, the customer chooses from 4 Hawaiian Relishes, 3 Secret Garlic Sauces, and 3 Hawaiian Mustards.  Then you slide in the 1/4 pound all beef dog.
It's For Sale Again!  Derek ran this cart very successfully as a side business until a promotion involving lots of travel forced him to sell it.  Now this turnkey business is for sale again by Jeremy, the second owner.
He's selling the entire operation which includes:
 The cart, which is completely custom from the frame up, is Cal Code Compliant and has a large refrigerator, ten condiment pumps, custom fabricated spike toaster, custom iPad register stand, dual propane tanks, hand washing sink, hot water heater, burners with automatic safety shut off valves, complete internal power supply with inverter, two large deep cycle batteries and internal battery charger, large 140 can capacity cooler, chrome rims, detachable trailer tongue and much more
 All banners and signs, which include a large 2'x 5' outdoor vinyl banner with an outdoor banner stand and a custom Tiki menu board
Recipes for all of the sauces, which include four tropical relishes, three garlic sauces and mustards. (Of course you can change the menu to whatever you want, but one of the draws to this cart is the Hawaiian Style Hot Dogs. Derek had people driving from across the county and even from neighboring states just to get these dogs.)
All digital logo files
Our website HawaiianHotDogCo.com, which you can easily update yourself
And much more!
This is literally set up for someone to immediately go out the next weekend with a unique cart that draws attention and makes money.
I always say, "Don't sell a hot dog – sell an experience."  This cart takes that concept and knocks it out of the park! The bamboo cart body covering, tiki decorations, island feel, colors, signage – even the coordinated chips and drinks will give your customers a mini Hawaiian Island vacation every time they come to your cart. Pineapple mustard? That's what I'm talking about. Home run buddy!
You're not just buying a cart.  You're buying a turn key business.
Do not wait, it will sell very quickly – just like it did last time.
The cart is located in North Carolina.  The asking price is $27,999.
Contact the current owner Jeremy Hunt at 704-473-8573.