Click here to get free hot dog business lessons by email.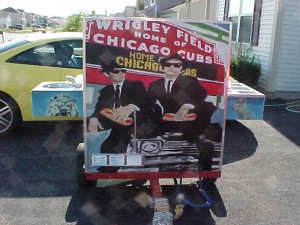 I'm totally blown away…
Totally.
Check out this E-Z Built Hot Dog Cart covered with custom hand painted murals. If you are from Chicago (like I am) you will be sure to recognize these scenes.
I don't mind admitting that I teared up a little when I saw these famous scenes from my old home town gracing the sides of a hot dog cart that I designed, built by one of my customers.
This is why I do what I do here at HotDogProfits.com.
I'd like you to read the email sent to me by Larry and Ruth, owners of this rolling work of art.
++++++++++++++++++++++++++++++++++++
Hello Steve,
My wife and I are both retired. We were looking for ways to generate some extra cash. Our daughter works for a large insurance company and kept telling us she got a lot inquiries about coverage on a hot dog cart.
So after ignoring that for 4 months I decided to look into it. I ordered your E-Z Built Hot Dog Cart videos and plans one night and thought I could build it without much trouble. But I wanted it to stand out from other carts or its just another hot dog cart, not that that's bad. We are quite proud of it, what do you think?  
Hope you like the pictures. I was thinking of building one with the St. Louis Arch on the back do you think there would be any takers?

Thanks,
Larry and Ruth, Patriots Hot Dogs
++++++++++++++++++++++++++++++++++++
Larry and Ruth – you made my year!!!
I hope everyone enjoys these pics as much as I do, and if you have a finished E-Z Built Hot Dog Cart I want to see your pics too!
And you all need to leave comments for Larry and Ruth – they deserve it!!!
-Steve