---
UPDATE: Our FREE website offer is now open to everyone and it's better than ever!
BONUS: Get a free lifetime membership to the Hot Dog Profits Premium Online Training ($69 value) when you take advantage of this offer. We have 12 10 7 4 spots left.
This offer is now open to businesses of all types. Whether you sell hot dogs, sauces, landscaping services, or carpet cleaning, we'll build you a free website for it. Tell your friends, we'll build them one too!
These free websites now come 100% finished. You no longer have to upload your own photos and text. We do it all for you. CLICK HERE to get your free website.
---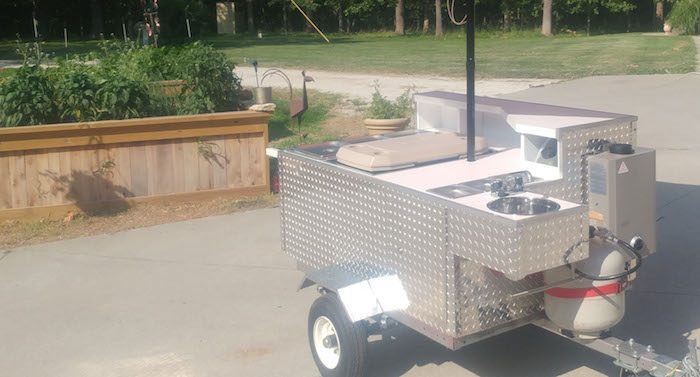 Steve,
Thank you for your hot dog cart design plans and all the tips you provide every day. We did a few external modifications to the design, but at its heart is an E-Z Built cart. Attached are a couple of pictures.
Thank you,
Rich Keith, Deepwater Dogs
++++++++++++++++++++++++++++++++++
Wow, nice job Rich! I love the diamond plate.
I also really like the shape of the raised counter top. Very nice!
Let's hear it for Rich and his metal E-Z Built in the comments.
-Steve
Click the pic for a larger version…