Click here to get free hot dog business lessons by email.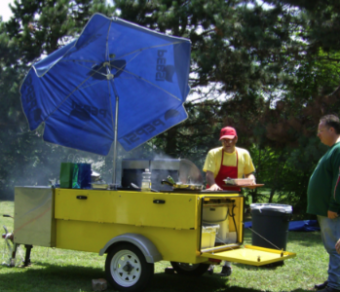 I just got an email from HDCN reader Tim who's hot dog business "Get Grilled" is taking off like a rocket. Tim got his start here at HotDogProfits.com and was kind enough to give me a great interview which you will be hearing on Hot Dog Cart Radio some time in the near future.
When your business expands as fast as Tim's, you are going to have some
growing pains. One of Tim's pains is insurance. He writes,
Hi Steve,
I am now moving into a bit bigger venues. Remember when i told you that my business has been operating on word of mouth advertising? Well word of mouth has been good. I now have the local director of economic development and several chamber of commerces contacting me for gigs. I have a Country Club Charity event on the 8th of August and I have been asked to set up in a local business parking lot on Saturdays and Sundays after that.
I have been looking for liability Insurance for the last couple of weeks and have had a hard time finding people to cover me. Now that I am stepping out big time, I need to CMA.
Thanks,
Tim
O.K loyal readers, it's time help a fellow dogger.
Who do you use for hot dog cart insurance? Please provide the name of the company and their phone number in the comments section along with any suggestions or tips.
As my high school football coach used to say, "Let's go girls, I want to HEAR YOU!"
I love it when we all get together to solve a problem. With your help, this will become a great resource for hot dog cart insurance for all of us.
Thanks for sharing!!!
-Steve