Click here to get free hot dog business lessons by email.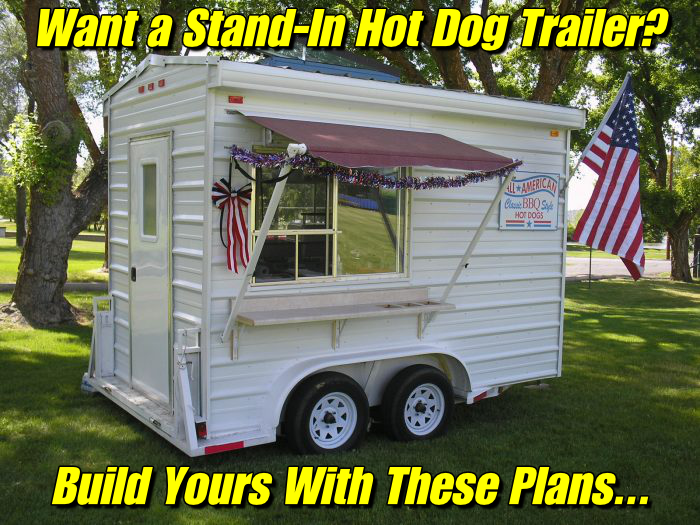 Hi Steve — I purchased your E-Z Built series a couple of months ago with the intent of building a cart. They were very helpful in guiding me in designing and building my own self-contained concession trailer. I already owned an 6 x 12 open utility trailer, that I enclosed and wrapped with metal roofing material. I worked with the local health department and built it around their requirements and passed the final inspection without any hassles.
I decided an open cart wouldn't really be good here in Oregon where the weather would play a big part in a successful operation. We have wind, rain and cold days even in the summer…so I decided to expand on your cart ideas and go for an enclosed trailer. Also, I can lock it up and leave it overnight at a multi-day event and be ready to go quickly the next day.
I had my first event this past weekend. It consisted of a park location starting on Friday night for 3 hours and then all day on Saturday. At 3:00 pm on saturday I had to close temporarily for about 45 minutes to run to the store and get more hot dogs and buns so I wouldn't run out before the dinner hour. I sold 300 hot dogs and ran out at 6:30pm and ended up selling chips, water and sodas for the next hour.
Great way to start a new business! I have more events booked in the next few weeks.
Funny thing happened at the event…I had four people stop by just to ask questions about the trailer!!! A couple of them bought some hot dogs and asked a bunch of questions about the build.
Thank you for your insightful DVDs to get me started, they were a great help in designing the trailer.
Bob Yeager
Klamath Falls, Oregon
+++++++++++++++++++++++++
Fantastic job Bob!!!
The E-Z Built Hot Dog Cart Video and Plans were designed to be super-customizable, and customize you did!
Let's hear it for Bob in the comments, my slingers!
-Steve
Click the photos for a larger version…