---
UPDATE: Our FREE website offer is now open to everyone and it's better than ever!
This offer is now open to businesses of all types. Whether you sell hot dogs, sauces, landscaping services, or carpet cleaning, we'll build you a free website for it. Tell your friends, we'll build them one too!
These free websites now come 100% finished. You no longer have to upload your own photos and text. We do it all for you. CLICK HERE to get your free website.
---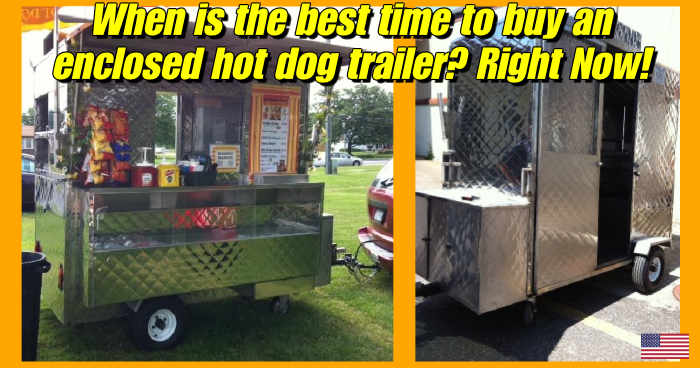 Hey Slingers,
The best time to buy lawn furniture is in the winter. Why? Because that's when you get the best deal.
When is the best time to buy an Enclosed Hot Dog Trailer? Right now just before the weather is about to change for the better!
I just got news of a really nice enclosed vending trailer for sale at off season pricing. Check it out…
+++++++++++++++++++++++++++++++
Hi Steve, would you share this with your readers?
For Sale – Hot Dog Food Vending Trailer – Why work outside in bad weather when you could have this and operate year round inside if you choose to??
This is a true NYC food cart. All Stainless Steel Enclosed Hot Dog Cart in excellent condition.
Full steam table with inserts
Char broiler; Flat griddle
Two ice or meat coolers
Sink with hot and cold water
2 person stand-in
Serving window with two sliding Plexiglas panels
Overhead shelves for product storage
Outside serving shelve
Built in beverage cooler on the outside
Swing up cover to protect customers from the weather
Skylight
Storage compartments for dual propane tanks
Umbrellas
Extra tires on rims and much more
Asking 8,700.00 or Best Offer. I am located in upstate New York.
 Please email me for more pictures and additional info: laurjane@rochester.rr.com
Thanks,
Laurie
+++++++++++++++++++++++++++++++
Are you ready to step up your game?
Do you have big plans for the coming hot dog slingin' season?
This is the machine that can make it happen.
Someone will snap this up in a hurry, especially at this price, especially with the whole season in front of us.
Shoot Laurie an email today before you miss out.  Here's her email again: laurjane@rochester.rr.com
Click the pictures below for a larger version…