---
UPDATE: Our FREE website offer is now open to everyone and it's better than ever!
BONUS: Get a free lifetime membership to the Hot Dog Profits Premium Online Training ($69 value) when you take advantage of this offer. We have 12 10 7 4 spots left.
This offer is now open to businesses of all types. Whether you sell hot dogs, sauces, landscaping services, or carpet cleaning, we'll build you a free website for it. Tell your friends, we'll build them one too!
These free websites now come 100% finished. You no longer have to upload your own photos and text. We do it all for you. CLICK HERE to get your free website.
---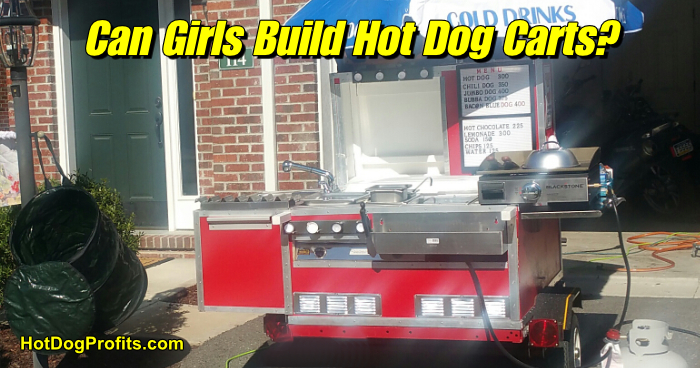 Heck yes! I just got this short email from Hot Dog Profits Premium member Lisa…
"Took a little over 2 months to build but I'm a girl, so there was a sharp learning curve. Just need a longer 5 foot propane line which I didn't have at the time of the photo. Was fun building!" -Lisa H.
Way to go Lisa! What you may not realize is that you are not alone. We have a LOT of ladies inside HDP Premium who have built their own carts using the videos and plans in the member's area. HDPP isn't a just a "good old boys club", that's for sure. Anyone can do this and start their own fun business. Young, old, male, female, it doesn't matter. All you need is the desire to sling hot dogs and make a better life for yourself.
I'm super impressed, Lisa! You are now a genuine "slinger" and your E-Z Built Hot Dog Cart looks awesome!
-Steve
P.S. Let's hear it for Lisa in the comments!