---
UPDATE: Our FREE website offer is now open to everyone and it's better than ever!
This offer is now open to businesses of all types. Whether you sell hot dogs, sauces, landscaping services, or carpet cleaning, we'll build you a free website for it. Tell your friends, we'll build them one too!
These free websites now come 100% finished. You no longer have to upload your own photos and text. We do it all for you. CLICK HERE to get your free website.
---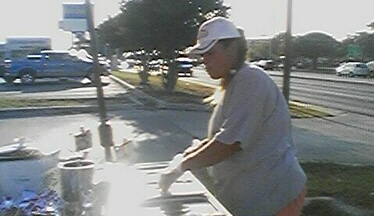 Hi Steve,
I'm finished with my E-Z Built Hot Dog Cart and have been slingin' for 3 weeks. Awesome!
My husband made mine 6 feet long, so I'd have more working space. He made me do ALL of the plumbing by myself to make sure I could fix it on the spot! Hope you like it?
I've already been booked through December 11th by one group here in San Antonio,TX.
My husband got me the larger George Foreman grill for my bacon wrapped dogs and an AWESOME location on S. Flores and Military Drive.
It's people like you that brings out our inner desire to grow as entrepreneurs.  I definitely learned a lot…
Thanks for all of your support.,
Lucette A.K.A. Big Momma
********************************
Great job Lucette!
I'm really impressed with what you have done, especially the part about doing the plumbing yourself so you can fix it if you need to. The plumbing is E-Z (just like the rest of the cart) but your husband is a smart guy for suggesting that.
Looks like he's going over the checklist with you in the pics below 😉
I'm also proud of you for being booked so far in advance right out of the gate. That's awesome!
Welcome to our world Lucette! Congrats in the comments people!
-Steve