A high dollar hot dog cart for a small price. This is the famous Hank's Franks hot dog cart. With four full size pans plus a flat top griddle, you'll be able to handle any size event with ease!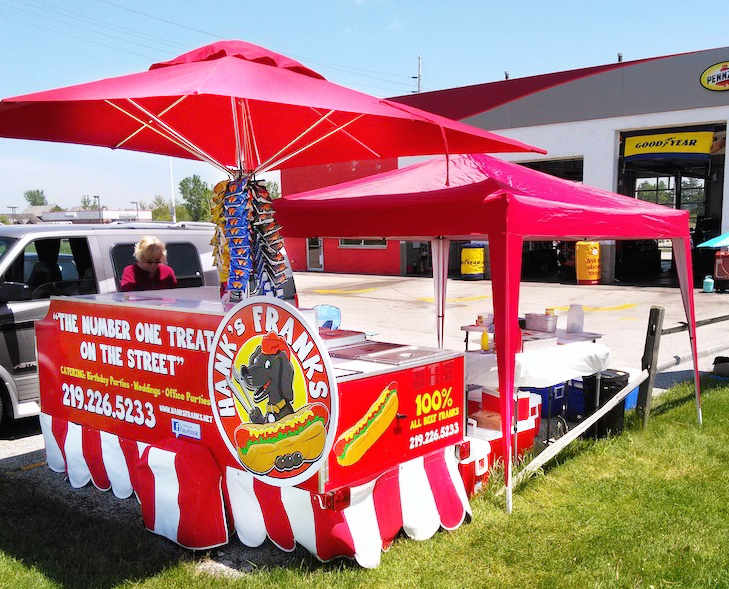 This spotless side serve cart is nicely equipped with a three compartment sink, a separate hand washing sink, a ten gallon fresh water tank, and a 15 gallon grey water tank.
Tons of extras. You also get two hinged dome top lids, two roll top lids, four propane tanks, 12 coolers, a pop up canopy, a folding picnic table with 3 umbrellas, an aluminum prep table with a stainless top, signs, custom cart cover, four condiment trays (2 still new in the box) and more.
You can even keep the Hank's Franks name! Or, if you want to rebrand it to your own business name, just peel off the Hank's Franks vinyl wrap and add your own wrap or signage.
This is a super rare opportunity. I see lots of carts with three or four half size pans, but a cart with four full size pans plus a flat top griddle is a really rare machine. If you bought one new it would cost $15,000 to $20,000 or more (sometimes much more) from a quality manufacturer.
You will almost never find a four full size pan + flat top cart on the used market. You're looking at one right now.
I haven't seen a anything this size and this nice on the used hot dog cart market in years. You should be able to make serious money in any location with this eye catching, high production rig.
If you think too long about this fantastic cart, you are going to lose it. Who knows when we'll see another four full size pan + flat top griddle cart as nice as this for such a steal of a price.
SOLD.
Click the photos below for larger images…