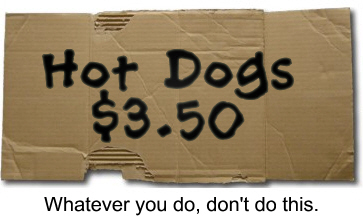 Rule #1 – Don't Be Scary. If you are using home made signs, they had better be good. Nothing suggests a risky meal more than a hand lettered cardboard sign. It might as well read, "Food Poisoning? Maybe." On the other hand, professional signs make your operation look neat and clean – and that is what the customer wants to see.
If you absolutely can't afford professionally made signs, you could go with a black chalkboard and colored chalk lettering. People are used to seeing these in the waiting area of trusted restaurants which makes it an acceptable alternative.
Rule #2 – Don't Be Invisible. Your signage plays an important role in the sales process. The first step in making a sale is getting attention. If they don't see you, they can't buy from you. Often times your signage is the second thing they see, right after your umbrella, so make it big and make it bright. Pull them across the parking lot by their eyeballs.
Rule #3 – Don't Be Difficult. My dad used to tell me, "Steve, don't try to cram 10 pounds of &#%! in a 5 pound bag." The same goes for your signage. If your menu looks like a novel, the customer will stop reading. Literally. It's been psychologically proven that when a person is confronted with too many choices they choose nothing. They walk away. If your signs are simple and uncluttered the customer will be able to quickly decide what they want and that is when you make money.
I hope you find these tips useful. If your signage needs sprucing up, now is the time to do it.
HDCN regular contributor Robin Delancy sent me these pics of her new hot dog cart signage. I really like how they turned out (see pics below).
All right slingers, how about sharing your tips for signs that sell more hot dogs. Let's hear it in the comments.
-Steve
Click the pictures below for a larger image.