Hot Dog Cart Accessories
Need chip clips? We got 'em. Hot dog sleds? Right here. Hot dog cart accessories used to be hard to find. Not anymore.
From Eccotemp L5 tankless water heaters to three pocket cash aprons, all of our accessories have one thing in common. Each product is carefully chosen for quality and durability. In addition, these accessories have been field tested on our own carts.
HotDogProfits.com has the hot dog cart equipment you've been looking for.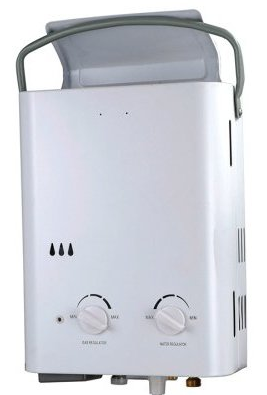 Eccotemp L5 Tankless Water Heater
Whether you are building your own E-Z Built hot dog cart or retrofitting a manufactured cart, a tankless water heater is a must have item.
The Eccotemp L5 automatically fires up when it senses water flow and then shuts off, so it only burns a tiny bit of propane. Use it in combination with a small electric water pump for best results (I recommend the Shurflo Nautilus – it delivers just the right amount of pressure). You can also hook it up to a garden hose for unlimited hot water.
This is the water heater I use on my own cart. I love it!!! REAL hot water for as long as you want, not four seconds of luke warm drip like those gravity feed systems.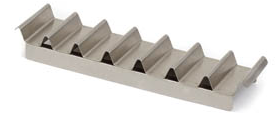 Hot Dog Sled (aka Hot Dog Prep Tray)
Put your weenies on the assembly line. Also called a Dog EZ, this unit holds 7 hot dogs rock steady as you dress 'em up.  All stainless steel, welded construction. A real time saver!



Hanging Chip Clips – 2 pack OUT OF STOCK

Hang your chips from your umbrella. Save space while prominently displaying your wares for better sales. These are the good ones – double sided with 24 genuine coil spring clips per stick. Powder coated steel for long life.  If they see the chips, they'll buy the chips!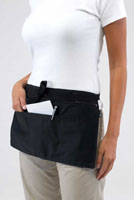 Cash Apron
These Spun Poly waist aprons look, breathe and feel like 100% cotton. Stain resistant, color-fast and have great washability. No ironing. No shrinkage.  Popular navy blue 3 pocket apron  -  11″ Long, 22″ Wide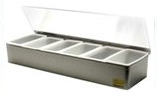 6 Compartment Condiment Tray
Great for onions, sport peppers (Chicago Style anyone?), tomatoes, etc. Hinged plexiglass lid.
More great accessories coming soon!
Note: Shipping fees are for the continental US only.
International orders: Please contact us for additional fees.
Customer service:  (888) DOG-BIZ1
Manufacturers warranty applies.

If you want to ditch the alarm clock and be your own boss, if you want to make great money selling tasty hot dogs to smiling customers in the fresh air, if you want to be a "slinger"… it's critical that you learn the business from someone who is truly qualified to help you. I don't hide behind my websites. I answer my own phone and email. Like I said, I'm here for you.
What's the first step? Take our FREE Hot Dogger Biz Quiz and learn how well you would do behind the cart. You will receive a free personalized success profile based on the answers you provide. Do you have what it takes to succeed in the hot dog biz? The results of your quiz just might surprise you!
Welcome to the "dogosphere"! Go ahead and take your quiz and let me know how else I can help you!
-Steve Schaible
Owner, HotDogProfits.com
"The Gold Standard in Food Cart Training"