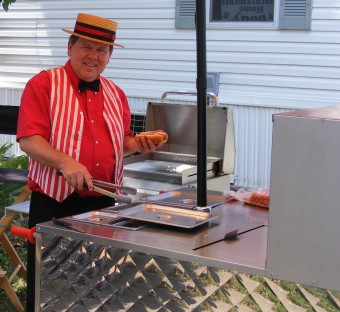 Look Over the Shoulders of Professional Hot Dog Vendors at Work, Making REALLY Good Money and Having a REALLY Good Time. Learn Their Secrets…
Discover the Fun and Profitable World of Hot Dog Vending.
Get FREE Hot Dog Cart Lessons delivered right to your inbox starting today!
I hate spam as much as you do. I promise your email address will never be sold or given out to anyone.
Hot Dog Profits is a FREE newsletter packed with information about the hot dog cart business. Whether you are a seasoned veteran or just wondering hot to get started, you'll learn a lot, be inspired, and get some great new ideas that you can use in your own business, either part tine or full time.
"Steve you make my day ever time I get your newsletters. When I turn my computer on I can count on it that you or one of your dedicated hot dog dog buddies has a "made my day" story. keep up the good work!
Capt. J.L  Lee – The Wagon Train Eat Place "Texans favoite Hot Dogs"
Subscribe Now!
INTERACT with our friendly community. You can post comments and interact with me and the other folks just like you who receive Hot Dog Cart News. It's awesome!
Come join us. We'd love to have you! When you subscribe you'll receive an email a couple of times a week. That email will have a link to the latest issue. It's that easy.