Click here to get free hot dog business lessons by email.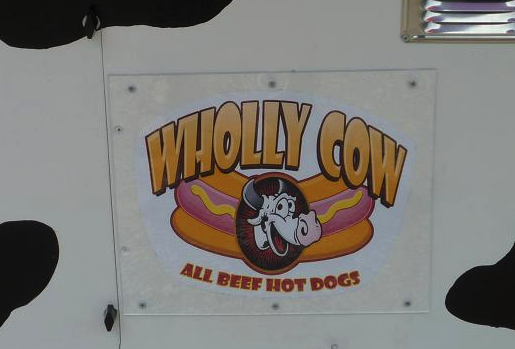 Creative is an understatement. You gotta see these pictures… Bradley, you're a genius.
Steve,
I just wanted to write and thank you for the wonderful website and plans.  The wealth of knowledge freely available on your site is truly amazing.  I also wanted to shamelessly brag about my brand new hot dog cart that I built myself.
I'm a software developer and consultant for a huge corporation that everyone would recognize if I named it.  However, 15 years ago, I owned a cabinet shop.  We also own a shaved-ice business, so we're no strangers to concessions.  We also own a farm and raise goats, so we're no strangers to hard work, either.
I bought your plans mainly to see how to make the firebox and the sinks, but I found much more information than I could have hoped for.  Since I have the knowledge and experience to build anything out of wood, I customized the plans to suit my vision.
Here's some specs on my cart…
First of all, it's 51 inches wide, and 48 inches long.  I extended the cart to the edge of the fenders.
It's made out of 2×3's instead of 2×2's, since I couldn't find any decent 2×2's.
I put in 4 sinks. (Thanks to these, the Health Dept. told me that I wouldn't need a commissary!)
The cooler boasts a 130-quart capacity and can hold 170 cans of soda.
I also wanted a chilled condiment table, so I added that, as well.
Since we are required to have a backup LP tank, I made room for two 20-pound tanks right inside.
I included a full-size deep-cycle marine battery in a marine battery box.
There are two cigarette lighter-style 12v outlets, and a 400 watt power inverter in the upper dry storage area, with two 120v outlets and a USB outlet so we can charge cell phones and iPods, run a laptop, etc.
I bought a small set of speakers to hook to the iPod just to have a little music going.
I even made the cart into a free mobile Wi-Fi hotspot!
You'll see in the pictures that I also made a fence to go around the tongue that fits right in with my theme.
As you can imagine, this cart is quite the conversation piece.  The look on people's faces when they see it is priceless.
Thanks for providing the knowledge, and the gathering place for so many great people to come together and share their experience.
Bradley Jacobs
Wholly Cow Hot Dogs
Click the pic for a larger version. (Hint: You can click on the right side of the big pic to go forward, the left side to go back.)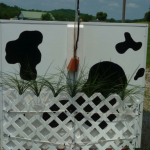 I'm wholly speechless, but you shouldn't be. If you can't think of a comment for this then you must not  be breathing. Let's give Bradley some kudos!
-Steve