---
UPDATE: Our FREE website offer is now open to everyone and it's better than ever!
BONUS: Get a free lifetime membership to the Hot Dog Profits Premium Online Training ($69 value) when you take advantage of this offer. We have 12 10 7 4 spots left.
This offer is now open to businesses of all types. Whether you sell hot dogs, sauces, landscaping services, or carpet cleaning, we'll build you a free website for it. Tell your friends, we'll build them one too!
These free websites now come 100% finished. You no longer have to upload your own photos and text. We do it all for you. CLICK HERE to get your free website.
---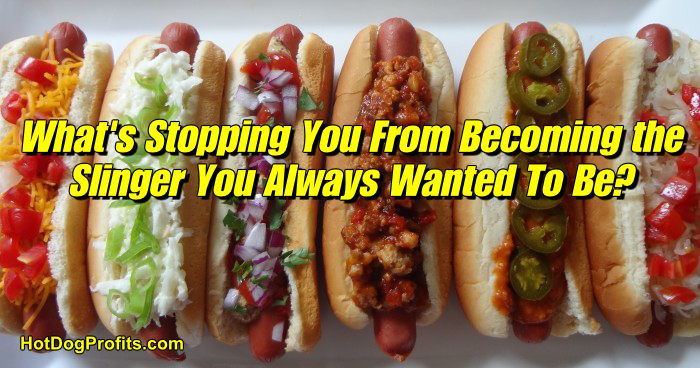 Hey Slingers,
There are two things that I hear from my readers every day. Literally every day,
#1: "Steve, I've been wanting to have my own hot dog cart for years."
#2 "Steve, I've been up and running for a month now and I'm having so much fun. I just wish I hadn't waited so long to get started!"
Well, what are you waiting for? The perfect starter cart? The perfect deal? You're in luck. Today you can have both.
I just got an email from Jim and he's got a great opportunity for one lucky wanna-be slinger…
"Hi Steve, I need to sell my Ben's Big Dog Cart. Includes 3 burners, sink, 5 gal water tank, 7 1/2 gal waste tank, water works off 12 volt pump, removable tow bar, cooler, bread box, single flip top, condiment table on rear of cart, Sabrett Umbrella, 7 gallon water tank, 2- 60 quart Igloo coolers and miscellaneous utensils. Price $2,500. Located in Warwick NY 10990. Email contact jamescl1118@yahoo.com"
Jim's loss can be your new career. Email him directly at jamescl1118@yahoo.com.
Don't snooze, you'll lose. Deals like this don't come around every day.
-Steve
Click the pictures below for a larger version…