Click here to get free hot dog business lessons by email.
Everyone loves the E-Z Built Hot Dog Cart because it is so easy to build (hence the name), and you end up with a cart that is equal to or better than carts that cost a lot more.
But what if you don't love building things?  Want me to build you one just like mine?
Wait, you don't need me to do that – check out Dale's E-Z Built cart…
Dale built an E-Z Built that looks identical to my personal cart, the one I use in my own hot dog biz.  When I saw the pics that he sent me, I had to run out to my garage to make sure mine wasn't stolen, lol!  Actually the more that I look at it, I think it looks better than mine.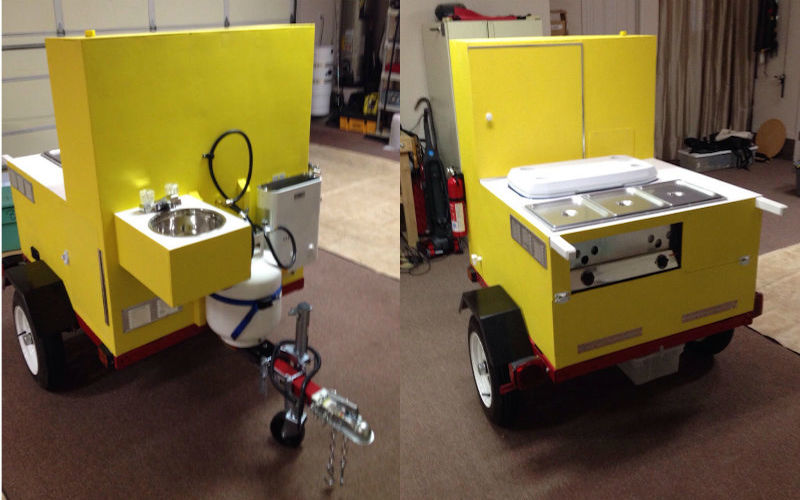 IT'S BRAND NEW – AND IT'S FOR SALE!  Unfortunately, Dale suffered a health set back and won't be able to start his business.  He asked me if I would help him sell his brand spankin' new, never been used, totally awesome E-Z Built.
SPECS:
The trailer is a Harbor Freight trailer 40 inches wide and 48 inches long for the frame setting on 12? tires.
The front wheel is a Harbor Freight 1,000 lb. capacity adjustable jack for ease of leveling.
All the access doors are secured with white quick open and shut window sash latches.
2 outlet AC 120 Volt, 60 HZ with 1,000 W Max output power- inverter.
All the new pans listed below are from Big Tray out of San Francisco.
1 Steam Table Pan, 1/2 Size, 6? Deep S/S
3 Cover, Flats, Fits 1/2 Size Steam Table Pan, S/S
2 Steam Table Pans 1/2 Size Perforated, 4? Deep S/S
1 Spillage Pan, Stainless Steel
Included is the Reese Tow Power Hitch with a new 1/78 ball for towing.
If you've been putting off building your own cart, but still want an E-Z Built, here's what you do…
Give Dale a call at (308) 293-2784 or email him at daleburgland@gmail.com.
He's asking a very reasonable $2,250 for this brand new, eyeball catching yellow, ready-to-make-money-tomorrow hot dog cart.
Don't snooze on this one or you'll miss it!
-Steve
P.S. There is a valuable lesson here.  If you build your own cart like Dale did, you'll always be able to sell it for more than you have in it.  It's literally a way to start your hot dog biz risk free.