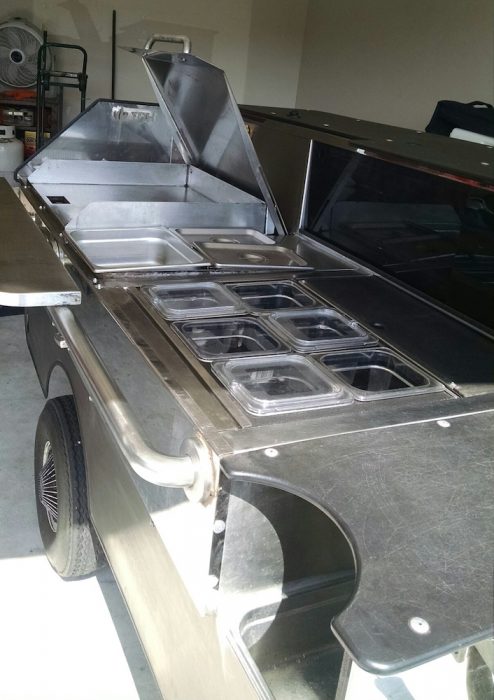 When a hot dog slinger wants to move up from their starter cart, a Top Dog Cart is one of the first carts on their wish list. 
The problem is, a Top Dog Cart is not cheap – for good reason. These are the Cadillacs of the mobile food trade and they last forever. People hang on to them for decades.
You don't often find these carts on the used market (especially at this price!), so today is your lucky day.
John Daly is selling his Top Dog Cart and he asked me to post it here so you can check it out.
Features:
24" Griddle
Blanched ground carbon steel 5/8" plate
Full size steam table with NSF Certified utensils, pans and lids 
6 bay cold condiment compartment
Propane heat cooking
Concealed propane tank compartment holds 20lb. tank. (All propane systems meet National Equipment Standards)
3 Stainless burners – 12,000 BTUs each (2 under griddle, 1 under steam table)
STORAGE
High capacity ice bin. Measures: 21" W X 24"H X 14" D. Holds 160 soda cans or frozen food
100 Can Cooler insulated with rigid urethane insulation for maximum ice life
3 compartment Bain Marie condiment tray over cooler
6 cubic feet of dry storage
WATER SYSTEM
Self-contained, pressurized hot and cold water system (9 gal. fresh / 18.5 gal. gray)
Quick drain valve
Stainless steel sink(s)
12V battery
Thermo-coil hot water supply
Click the pics below for larger images…
At just $3995, a Top Dog Cart in this condition is an absolute steal. 
Call John now at 706-455-0552 or email him at mrspamdaly@gmail.com. Do it today because this cart won't last.