---
UPDATE: Our FREE website offer is now open to everyone and it's better than ever!
This offer is now open to businesses of all types. Whether you sell hot dogs, sauces, landscaping services, or carpet cleaning, we'll build you a free website for it. Tell your friends, we'll build them one too!
These free websites now come 100% finished. You no longer have to upload your own photos and text. We do it all for you. CLICK HERE to get your free website.
---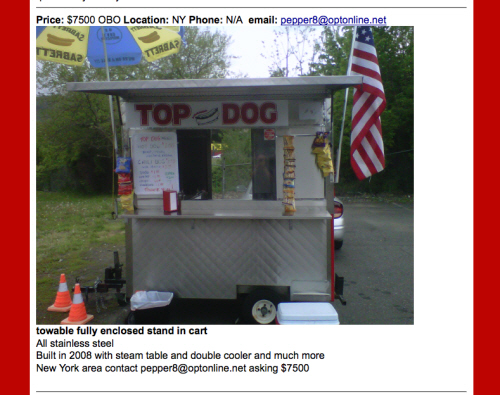 One of the services I offer here at Hot Dog Profits is a free used hot dog carts classified section. Larry Perrone took advantage of this service a few weeks ago and posted a really nice stand-in hot dog cart for sale.
Larry just told me that he really needs to move this cart and he just reduced the price by $2500. I thought I'd post it here on Hot Dog Cart News because it's such a great deal, and with winter approaching the timing is perfect for someone who wants to upgrade to a warm, dry and cozy slingin' machine.
$7500 takes it home.
Shoot Larry an email at pepper8@optonline.net to grab this awesome bargain. It won't last long!
Happy Thanksgiving everyone!
-Steve