Click here to get free hot dog business lessons by email.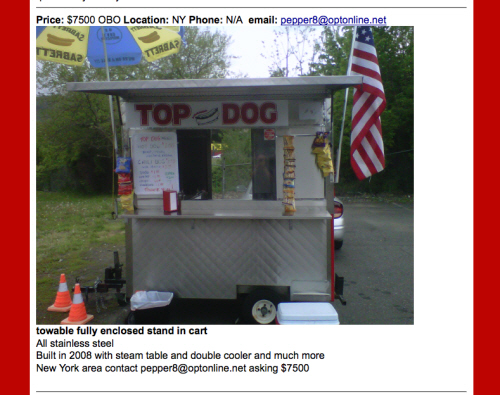 One of the services I offer here at Hot Dog Profits is a free used hot dog carts classified section. Larry Perrone took advantage of this service a few weeks ago and posted a really nice stand-in hot dog cart for sale.
Larry just told me that he really needs to move this cart and he just reduced the price by $2500. I thought I'd post it here on Hot Dog Cart News because it's such a great deal, and with winter approaching the timing is perfect for someone who wants to upgrade to a warm, dry and cozy slingin' machine.
$7500 takes it home.
Shoot Larry an email at pepper8@optonline.net to grab this awesome bargain. It won't last long!
Happy Thanksgiving everyone!
-Steve