Click here to get free hot dog business lessons by email.
This cart is SOLD.
More photos below.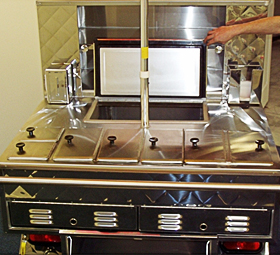 Hey Slingers,
I just heard about a used Cart Concepts Model 425 for sale. You don't find these on the used market all that often so I wanted to share this with you.
The Model 425 is known as the Cadillac of Carts. It is one of the most well constructed hot dog carts you can buy.
Whether you are a seasoned slinger or a pure newbie, this Model 425 will serve you well, and make you a ton of money.
This cart is for sale SOLD…
We are pleased to offer this like new hot dog cart for sale. Used for 2 months during the summer and has been garaged since.
This towable cart includes a 4 bay sink which includes stainless steel hot and cold water tanks that hold 5 gallons each, a 12 gallon stainless steel waste holding tank which is easily emptied with a 1" quick release ball valve, 2 propane tanks, a stainless steel cooler compartment that is well insulated and holds approximately 120 12 oz cans, additional cold storage area is underneath.
The steam table area is 42"L x 12"W. Cart comes with 6" deep stainless steel cooking pots. The largest pot is used for your cooking (steaming) area. This pot is also on its own direct heat burner. The other pots set into a water bath which will allow you to expand your menu by warming rolls, sauces, etc.
The dry storage is a display case with shelf features, sliding Plexiglas doors with lots of room for rolls and chips.
The cart also includes an attractive red and yellow umbrella!!
This Model 425 is priced right at $4000. SOLD
Click on the photo for larger images…