Click here to get free hot dog business lessons by email.
SOLD – Operating Hot Dog Vending Business For Sale
Hey Steve:
I have an operating Hot Dog Vending Business For Sale. Jimmy up here in Waterford WI. Thanks for talking with me today. As I said I'm putting my hotdog business up for sale due to moving out of state. Hate for this amazing business to fall to the way side. I've built a pretty good thing here. These folks in Waterford Wi love their hotdogs.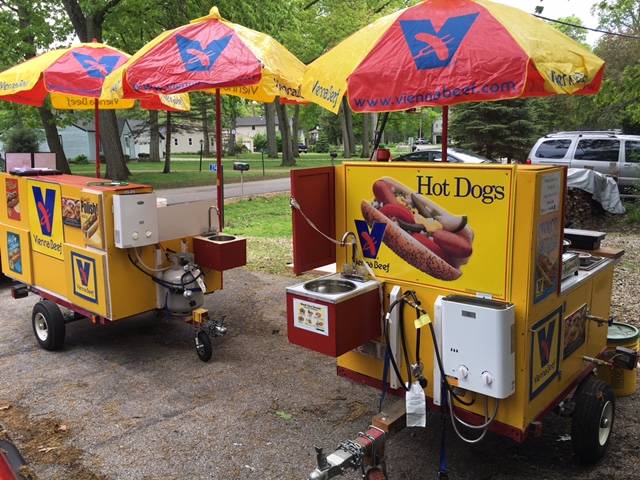 I've got two E-Z Built carts one is the standard cart and one is a side serve cart with a grill and three burners, we like this one best, almost tempted to take it with us….
I have everything for TWO full set ups for TWO locations. ( To use for a location and/private party. ) See attached photos. So much goes with it. Freezers,carts,fridge, small wares,inventory, as well as training if they want to keep what I have here going.
All the Vienna Advertisement costs nothing, it comes with the cart only IF you sell mostly Vienna product !
Building this business is simply the smartest thing I've ever done. For all our videos and photos please Look at Face book https://www.facebook.com/jimmysdogsandmore/# and our web page http://jimmysdogsandmore.com/welcome/.
Asking $5700 for a working business taking home several hundred dollars a day after expenses. This is an amazing business. We are working it as we speak so the buyer can just step in and take over.
I can answer all questions just give me a call at SOLD