Click here to get free hot dog business lessons by email.
PRICE REDUCED
Hey Slingers,
Chuck in Phoenix is selling his 2016 hot dog cart which is built to NSF standards.  If you've been looking for used NSF carts online, you know how few and far between they are, so today is the day you've been waiting for!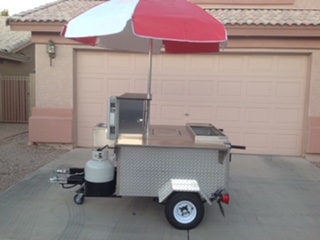 This cart is very nicely equipped…
*3 burners
*10″ x 46″ full length custom foldable shelf
*Bun storage shelf with sliding windows
*Sure-Flow hot water heater
*9″ x 10″ stainless steel sink with electric water pump
*7 gallon water tank on board with 5 gallon gray water tank
*Top load ice chest for easy access
*Hand crank up jack to eliminate lifting during hook up
*Butane gas gauge
Extras! This package also includes steam pans (different sizes), condiment trays, a dog sled (prep tray), red and white umbrella, and much more!
Don't snooze on this,  NSF carts get snapped up quick! This one is priced low at $4200.
Contact Chuck at 623-680-1705, or email him at grillem@earthlink.net