Click here to get free hot dog business lessons by email.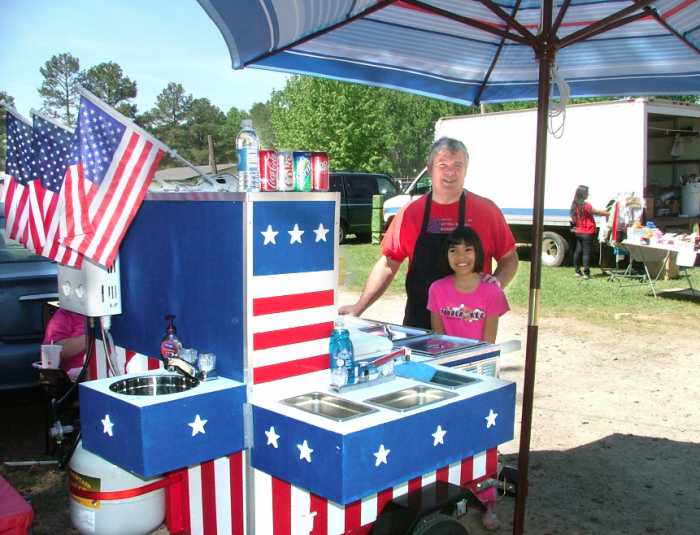 The trailer kits are gone!  Harbor Freight has recently removed the trailer kits from their shelves.  How does this impact E-Z Built Hot Dog Cart builders?  It doesn't.
All is well in home built hot dog cart land.  Here's what's going on and how to build your E-Z Built without the HF trailer.
I have heard rumors that Harbor Freight pulled the trailer kits because the wheels needed to be re-certified under new Dept of Transportation rules and until this happens they can't sell them.   I have heard other rumors that the HF trailers are gone for good.
No worries, Northern Tool sells an identical trailer kit (in black which I like a lot!).  Here's the link.
You don't even need a trailer kit at all.  I designed the E-Z Built Hot Dog Cart to be built on any trailer frame, any size you want.  This means that you can buy any old used trailer and use it as the base for your cart.
As you will see in my construction videos, we don't give lengths for the cart body frame.  I show you how to take all the dimensions for the cart body from your trailer frame.  That allows you to build any size hot dog cart that you want using any trailer frame that you can get your hands on.
I didn't want my plans to rely on a single brand of manufactured trailer in case they stopped selling them.
I'm very glad I made that decision back in the design phase.  And so are you because you can still build your own hot dog cart using hardware store parts, with no welding or riveting, for around $800 in materials.
Here's the link to my hot dog cart building video instructions.
Talk soon,
-Steve