Click here to get free hot dog business lessons by email.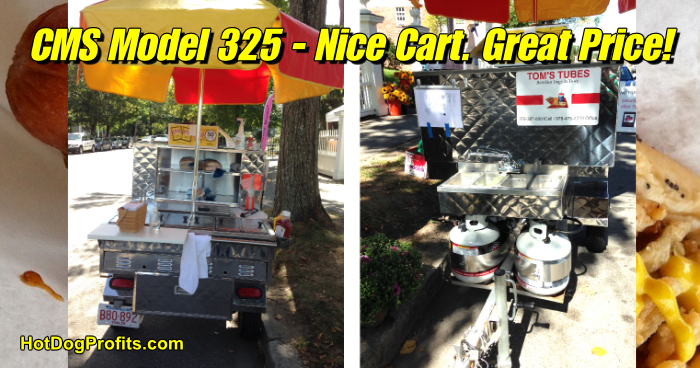 The great thing about fall is that you can get some great deals on used hot dog carts. Here is another one that just came up for sale.
If you know anything about hot dog carts, you know that Creative Mobile Systems makes one of the iconic carts in the industry – the super reliable Model 325.
Includes all this!  The 325 is a towable stainless steel hot dog cart. This one comes with a wet steam table two 1/6 pans, three 1/3 pans (all with lids), and a 2/3 meat cooking pan over direct heat. This cart will do about 500 dogs /hour!
It also sports a large 26.5" X 21.5″ X 12″ cooler, a storage compartment below the steam table, a compartment for 200+ iced soft drinks, hot and cold water storage tanks, a 12 gal waste water tank, and 4 sinks.
Additionally it has napkin and wrap holders as well as a waste paper container. Bun storage for about 200 rolls, 2 propane tanks, and a cutting board.
The cart has an umbrella and is easy to load and tow.
Price: Asking $2600 ($5400 new, 5 years old)
Contact info: Tom Rando
jetrando@comcast.net
978-475-7270
978-387-8001
A lot of us slingers aspire to owning a 325 someday. Maybe today is that day for you? Get in touch with Tom now because we all know that CMS 325's don't stay very long on the used market.