Click here to get free hot dog business lessons by email.
Look who just did $100,000 in Hot Dog Sales.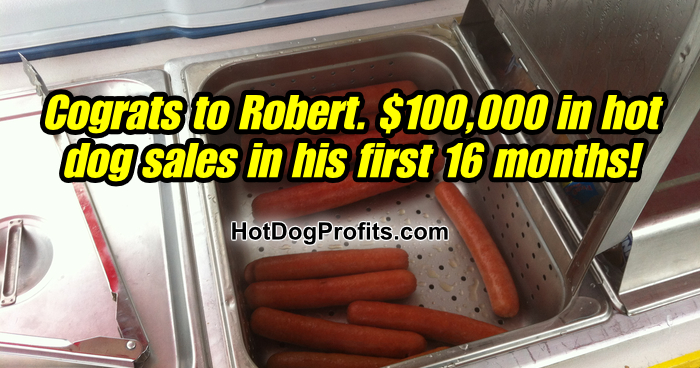 Are you are still on the fence about starting your own hot dog biz? Here's some quick inspiration for your morning from one of my Hot Dog Profits Premium members…
**********************************
Hi Steve, Robert from Virginia, wanted to let you know that I have surpassed $100,000 in sales since I started this business 16 months ago. Many thanks to you.
**********************************
Way to go Robert! You've done an amazing job!
Hey Slingers (or soon to be Slingers). I'm not saying that you will do as well as Robert but it is certainly possible if you know the secrets. In fact I have some students who are doing better than Robert (a LOT better).
This is a real business that takes work. You will get out of this business what you put into it.
If you're looking for a get rich quick scheme, I don't have anything to offer you. You might as well move along.
However, if you want to invest your efforts into a real business that is cheap to start, yet offers the potential of a six figure income, I can help you. Join HDP Premium. I'm keeping it super affordable for those who need it the most.
See you there.
-Steve