Click here to get free hot dog business lessons by email.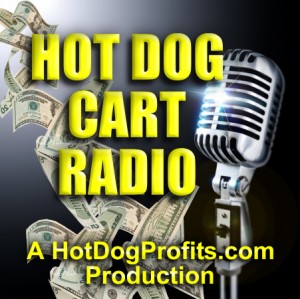 Update 4/14/11: A few days after this article went live I was contacted by Nick Loeb the owner of Loeb's Onion Crunch! He was amazed at the response this article generated. Apparently a few of you even posted pictures of your Onion Crunch topped hot dogs on Facebook. That's awesome!
Anyway, I asked Nick if he would like to do an episode of Hot Dog Cart Radio with me and he graciously agreed. It was a fun interview and we even ended up turning it into a contest at the end.
Nick is giving away a ____ ____ _ ____ ____!!!
Thanks Nick!!! (You need to listen to the interview to find out what the prizes are and how to win them.)
Hot Dog Cart Radio – Interview With Nick Loeb of Onion Crunch
Click the link below to listen online or right click to download the MP3.
Hot Dog Cart Radio – Nick Loeb of Onion Crunch

I'll notify the three winners by email and post their names in the comments.
I'm excited!!!
*******************************
Here is the original article that started this whole thing:
This looks really tasty!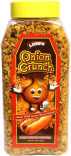 As hot doggers, we are always trying to come up with ways to differentiate our products from the competition. Check this out…
I just found out about a new topping that would really make your hot dogs stand out from the crowd.
It's called Onion Crunch from Loeb's Foods in New York.
From the Onion Crunch web site: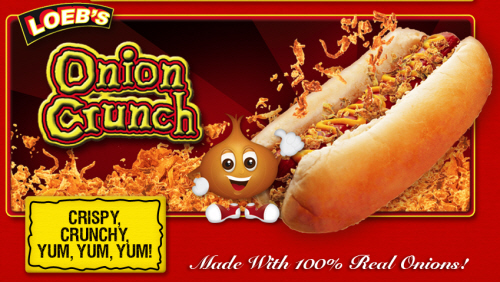 LOEB'S ONION CRUNCH is bound to put a smile on your face when you want a light, crispy, low-carb, low cholesterol topping. Add some Crunch to your Hot Dogs, Hamburgers, Salads, and Pizza. Best of all Onion Crunch contains 0 grams of trans fat so sprinkle on as much as you want. You might want to get 2 bottles. Yes, they're that good! It's the Crunch you will Crave.
Onion Crunch — crispy and fried made from fresh onions which have specially been developed from onion varieties. They are peeled, washed, cut and battered in order to create a perfect crispy onion. Then they are fried in high-quality vegetable oil to give them an absolute delicious taste.
They are sprinkled or used in small quantities to bring crispiness and a roasted onion flavor to salads, sandwiches, dips, soups, spreads, baked potatoes, pizza, hotdogs and burgers.
Compared to fresh onions the crispy fried onions are more sustainable remaining fresher with a shelf life of over 8 months.
********************
I haven't tried them yet but they look awesome. Just the thing to give your dogs some crunch. You can order Onion Crunch through their web site here.
I am not affiliated in any way with this company. I just saw it and wanted to let you know about it.
What do you think?
-Steve