Click here to get free hot dog business lessons by email.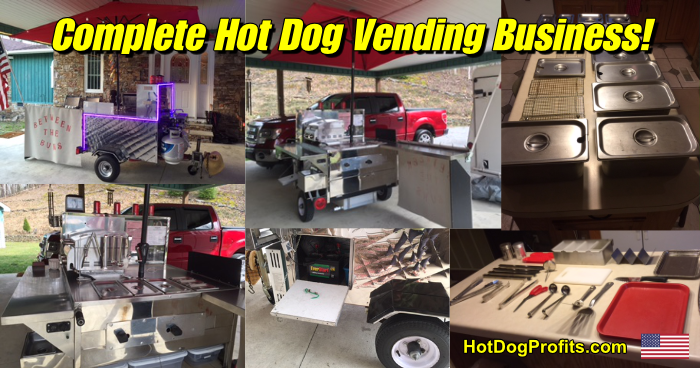 SOLD
Want to get into the hot dog vending business fast? Want to save thousands of dollars? This is exactly what you need. Comes with tons of accessories too!
A Fabulously Unique Cart. This is a great looking and tremendously functional vending cart, built by an ex fabricator – customers and other owners always compliment on what a great machine this is – truly a one-of-a-kind custom cart. It's eye catching, easy to tow, compact and sturdy and thanks to nearly every exposed surface being polished stainless, it is quick and easy to clean and shines like new money with very little effort.
Click the photos below for larger images…
This Custom Cart is Equipped With:
A single hand wash sink under the left prep counter
A three compartment sink for washing, sanitizing and rinsing on the front bulkhead
Brand new on demand 6L propane water heater and pump
Five gallon fresh water tank
New 7.5 gallon waste water tank mounted under the rear of the trailer with EZ drain butterfly valve
Heavy Duty Master Forge 16,000 BTU two burner grill with electric starters
Steam table is equipped with two propane burners and includes a large variety of pans and separator strips that make for endless serving options
There is a large thermal bulkhead which separates the steam table from the oversize top-slide cooler
There is storage galore, from the stainless top breadbox, a huge compartment accessible from the rear and another side compartment which allow access to the water shut off, pump and battery, but plenty of extra room for storing odds and ends
12 foot "super swooper' Hot dog feather flag is included and always is a sure way to draw customers to your spot
Brand new red 8 feet umbrella equipped with LED solar lights which looks great day or night (and is required in most states per health department regulations). Currently licensed in Tennessee
The cart is outlined with tape lights and can been seen from far away
Additional Functionality comes with the NSF stainless prep counter which runs along the left side of the cart and there is an additional 4-foot NSF serving counter that attaches in seconds that expands your working area even more and makes a great spot to hang a standard 4'x3' custom banner. There is even a USB charging port mounted on the back of the prep counter – handy to keep your smartphone charged on a long day with lots of credit cards swipes and/or call ahead orders.
The cart securely carries two propane bottles so you are never caught running out of gas at the wrong time. There is also a fresh, new ABC rated fire extinguisher mounted on the tongue of the trailer, along with a bolt-on leveling jack.
Tons of Accessories. I'm including all the pans, false bottoms, utensils, prep trays, food thermometer, tongs, dry goods seen in the pictures plus way more included!
Deals Like This Don't Come Along Every Day. You can find other hot dog carts, but you sure are not going to find one this functional, good looking and well equipped without spending WAY more money – spring is here, great time to get started in this fun and profitable busine$$.
SOLD