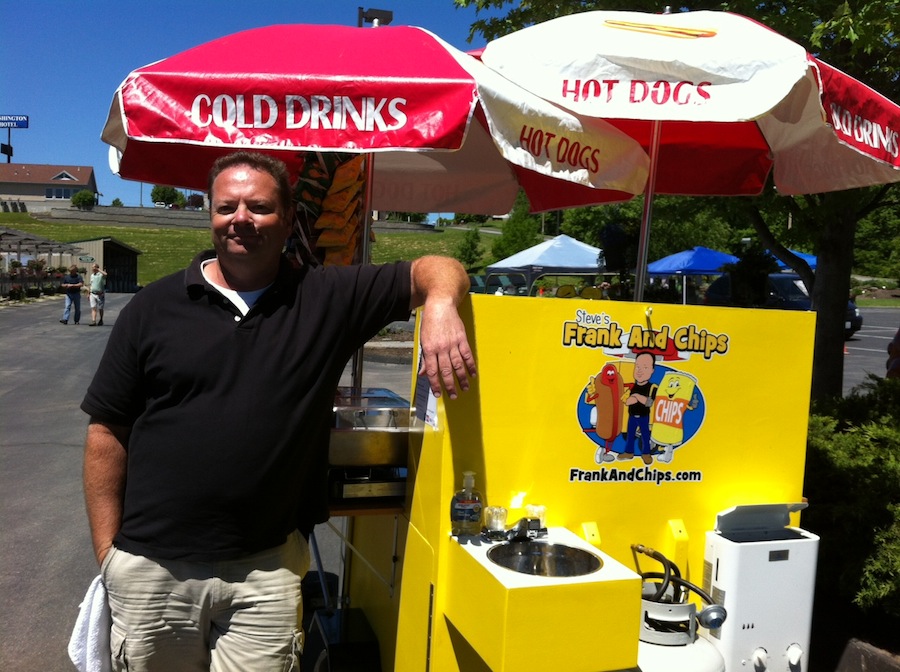 Hey Slingers, I'm selling my baby.
This is the original E-Z Built Hot Dog Cart.  Yes, the actual one that I built in my video series.  The one that started it all.
Whether you want to start your own full time business, or just make some great side money, this mobile food vending cart can make it happen. You can work a daily location, do weekend festivals, provide car lot or store promotions, or cater private parties (my favorite because you always know how much money you'll make before you even leave your driveway).
This cart is ready to make you money.
You get:
• D.O.T. titled, highway legal, 2 burner propane hot dog cart.
• 12 volt pressurized water system with hand washing sink.
• On board fresh water and waste water tanks.
• Large on board cooler.
• 20 pound propane tank.
• Adapter for one pound propane tanks allows you to work indoors.
• All the pans, utensils, condiment bottles, and accessories you need.
• An extra 2 burner propane stove for those big events.
• 2 professional grade umbrellas
• 2 add-on wing shelves to give you plenty of countertop space.
• Free training.
• Free custom website for your business.
I left my vinyl graphics on the cart so you can visualize how it will look with your own logo. You can easily peel them off.
This cart is set up for hot dogs but you could really serve any type of food that you want. Tacos, BBQ, pulled pork, burritos, hamburgers, you name it.
Tired of working for someone else? Want to make your own hours?
Want a job that's actually fun (imagine that!)? Then this is for you.
I'm asking $2900.
Call or text me at 636-399-2460.
Thanks!
-Steve