Click here to get free hot dog business lessons by email.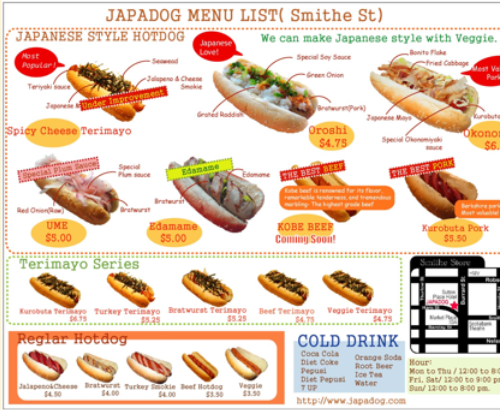 Larry suggested a good back-to-basics topic for today's discussion. He writes:
Hello Steve. I just finished reading the current issue of hot dog cart news.  I'm gearing up for my first real season (I didn't get started until mid August last year) and I am implementing some changes to my menu.
I had printed my menus on standard 8 1/2 x 11 computer paper (full color), put them into plastic sheet protectors and attached them to my cart using the wide, clear shipping tape. Now that I wanted to make some menu/price changes it was a total pain to remove the menus from the sides of the cart. What does everybody else do as far as as menu on the cart is concerned?

Special events would certainly entail menu changes from your everyday menu (price changes for certain). It  seems what I am looking for is something that looks clean and professional but is easily changed when
necessary. This could be a great topic for the next HDCN.
Larry Winters…..Island Dogs Camano Island, Wa.
*******************************
Great topic Larry!
I laminated my menus, health department certificate, and business license. Then I got some of those adhesive velcro dots, stuck them to the back of my documents, then pressed them onto the cart in the locations I wanted.
Now my menus and documents are removable for transport and I can keep several different menus in my tow vehicle for different types of events. I just swap 'em out as needed.
What are you doing for menu displays? Let me know in the comments!
-Steve
P.S. The menu at the top is one of my favorite examples of taking it to the next level. It's a work of art. You can get a larger view in one of my previous articles by clicking on this link: Hot Dog Cart News: Japadog Video