Click here to get free hot dog business lessons by email.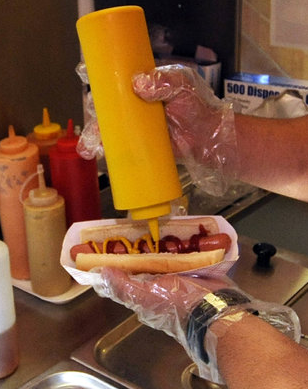 Hot dogs. The all-American food, right?
Well, just like nearly every other aspect of our culture, what you put on a hot dog reflects where you come from.
Luis Echeverry came to the U.S. from Colombia in South America, spending his teen years in New York. He moved here to work for Windstream. On the side he runs a hot dog cart at Plaza Fiesta, the Latino-themed mall next to Carowinds.
He'll fix you a New York-style dog: "Relish, sweet onions, brown mustard – the spicy kind."
But his eyes light up if you ask for your hot dog as it's traditionally done in Colombia.
First into the bun go potato chips. Then the hot dog. Then crushed pineapple. Crumbled white taco cheese. A squirt of mustard. A squirt-line of honey. A squirt-line of mayo. A squirt of salsa rosada, the mild pink sauce beloved in Colombia.
Then more crushed chips, topped by a hard-boiled quail egg. A quail egg? "Oh yes, that's the thing in Colombia. On hot dogs, and on hamburgers, too."
You can find Luis Tuesday-Sunday noon to 7 p.m at the food court at Plaza Fiesta mall; I-77 Exit 90, 3700 Avenue of the Carolinas, Fort Mill, S.C  He also caters 704-439-6818.
Thanks to Renee Crenshaw, Renee's Dogs for sending me this story!
-Steve
original story by Tom Hanchett, Charlotte Observer