Click here to get free hot dog business lessons by email.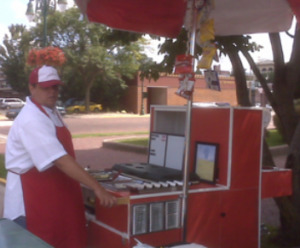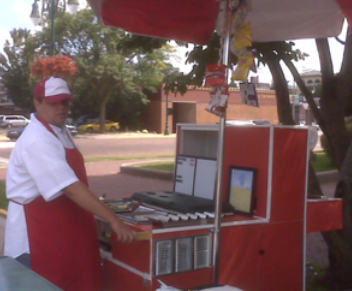 Toby Brady is a customer of mine from Illinois. He purchased the E-Z Built Hot Dog Cart Video and Plans Package and proceeded to build a really nice red cart which he used to start "Toby's Hot Dogs".
Toby was recently written up in his hometown newspaper and I thought you'd like to read about the latest in a long line of Hot Dog Cart News readers who have found success under a hot dog cart umbrella.
Enjoy!
Dogs on the Square
Former Maytag worker opens downtown lunch cart
By JOHN R. PULLIAM
The Register-Mail
GALESBURG —
Not everyone finds hot dogs to be their breakfast food of choice. But this past week, Ray Babcock of Galesburg took advantage of a new business, Toby's Hot Dogs, to start off his day with one of America's favorite, low-cost taste treats.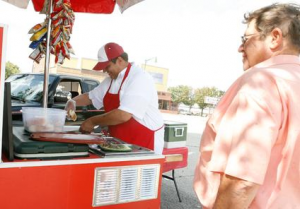 "I've seen him here for a couple of days," Babcock said of Toby Brady's push-cart operation at about 10 a.m. Wednesday.
"I'm originally from Chicago. I'm used to seeing this. There's something about hot dogs."
"What's it going to be today?" Brady asked Babcock.
"A hot dog and a brat," Babcock said.
Brady opened Sept. 1 in the area of the Public Square. Hot dogs for $2 and brats for $2.50 pretty much complete the menu for now. He hopes to add an authentic "Chicago-style" hot dog soon and he does have chips and soda pop.
"Oddly enough, I have one or two people from Chicago that stop here every day," Brady said. "I'm here to serve the public. Whatever the public likes, I'm going to try to serve them."
Brady is a classic entrepreneur. As is the case with many people in this area, he was somewhat shoved into entrepreneurship when Maytag left town in 2004.
"I worked at Maytag for 12 years. From there, I went to Western (Illinois University) and got a bachelor's degree. That bachelor's degree somehow landed me here," Brady chuckled.
What landed Babcock at the hot dog stand was a yearning for yesteryear.
"What attracted me is the whole nostalgia thing," Babcock said. "I love classic cars, anything old. My dad kind of talked about how great things were in the '50s and this sort of seemed like it."
Babcock used a squeeze bottle to put a dollop of brown mustard on his "dog." He also had yellow mustard and ketchup to choose from.
"I know a lot of people say ketchup doesn't belong on hot dogs, but a lot of people around here use it," Brady said, sounding almost apologetic. "I haven't had anybody bashing the ketchup. Galesburg has it's own unique tastes. I've had a lot of people use the ketchup."
In Chicago, the unwritten law is no ketchup on a hot dog. Perhaps downstaters are more laid-back, preferring not to set up too many rules when it comes to how one should eat one's food.
Asked how the brat was, Babcock said, "It's good, I love brats." He was even more enthusiastic about the hot dog.
"Good hot dog," Babcock said. "Good hot dogs have to have a snap to them. Thanks for breakfast, I'll probably be back for lunch."
Brady said the food was from Thrushwood Farms Quality Meats Inc., including the Johnsonville brats.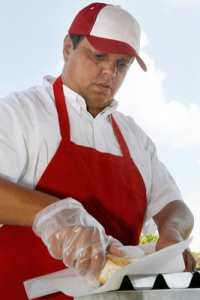 Brady seems to have the knack for this type of job; he seems to truly enjoy talking with his customers and has a good sense of humor.
Brady earned a Board of Governor's degree from WIU. He minored in manufacturing engineering, hoping something similar to Maytag would return to town by the time he finished his education. But he is by no means unhappy with the way things worked out.
"I've always had an entrepreneurial spirit in me," Brady said. "I tried selling gold-plated chains at Railroad Days one year. I had a used-records store downtown in the '90s."
His father also ran his own business.
"As far as the food service goes, I worked at Alfano's off and on through the years when Maytag was slow," he said.
Brady was asked how long he plans to keep the push cart open once the autumn temperatures begin to drop.
"As long as it's not too cold for you to stop and get a hot dog, I plan to be out there," he said.
What if it rains?
"I haven't had that occasion come up yet," Brady said. "I just haven't crossed that bridge yet. I don't know what the boys in Chicago do."
Brady has a great location — lots of traffic going around the square, with a convenient place for them to pull over and order a hot dog or a bratwurst.
"I have a lot of people pull up like it's a drive-through," he said. "So far, I'm happy with the response. I haven't had a million stopping by, but I've had new people every day."
With the success of events like Cafe in the Park, Brady said, "I'm really surprised nobody has tried this in Galesburg before. Hopefully we won't have 50 carts next year."
Chris Banning and Roy Sanchez, both of Galesburg, were taking a break when they pulled up.
"We just saw something new," Banning said. "We had to try it. Anything new in Galesburg, you've got to try it out."
Sanchez, who just moved to Galesburg from suburban Chicago, wasn't hungry enough for an early morning hot dog, despite Banning's offer to buy, but Banning also gave Brady's product rave reviews.
"I'm not the biggest connoisseur of hot dogs, but that's a pretty good hot dog," he said.
Toby's Hot Dogs is open from about 10 or 10:30 a.m. to about 2:30 or 3 p.m.,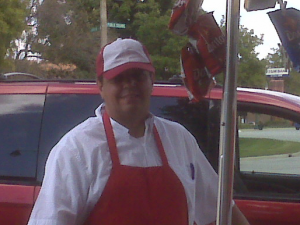 Monday through Friday. He plans to stay in the area of the square.
"If you want to buy a hot dog, I don't want you to have to drive all over town looking for me," he laughed.
.
Let's hear it for Toby in the comments everyone!!!