Click here to get free hot dog business lessons by email.
One of a Kind Hawaiian Hot Dog Cart For Sale. Turn Key Business!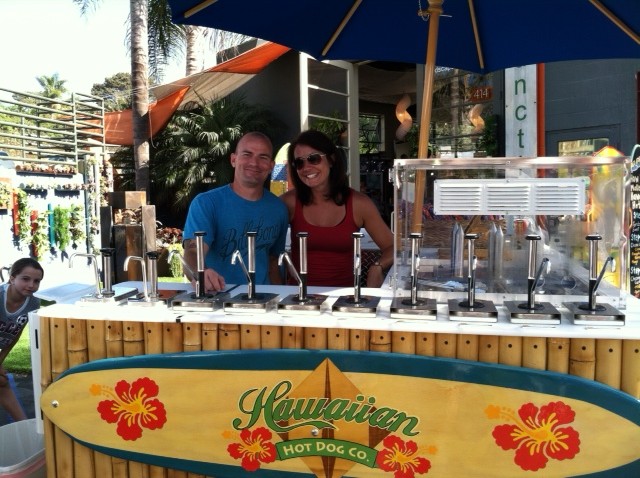 Read this now. Don't book mark it for later. Time sensitive doesn't even begin to describe this. You are looking at a totally unique mobile food concept that you can literally step into and start selling tomorrow.
You may remember Derek Falk, the owner of the Hawaiian Hot Dog Company. He built this rig from my E-Z Built Hot Dog Cart Video and Plans Package. When I saw the pictures I was totally blown away.
Not only is the cart one of a kind, the product is too. Not content to sell ordinary hot dogs, Derek sells a
Derek has done really well with his business but as you are about to read, he is in a situation where he has decided to sell.
Derek writes…
*********************
Hi Steve,
I have just found out this week that I have been promoted at my full time job, which requires me to relocate and travel very regularly. I have been going over and over in my head how I would be able to continue slinging dogs on the side at special events and farmers markets, but I can't figure out logistically how I could continue doing it, so it's with real hesitation that I've decided to sell my business.
I've been operating for the last seven months and sales are incredible and we literally have to turn down requests for weekend catering gigs so that we don't double book, (I've been only working the cart on weekends), but unfortunately I love my other job as well.
I need to sell the cart fairly quickly, so that I don't have to end up just storing it somewhere before I leave. Could you please let your fellow doggers know about this sale.
I'm selling my entire operation which includes:
 The cart, which is completely custom from the frame up, is Cal Code Compliant and has a large refrigerator, ten condiment pumps, custom fabricated spike toaster, custom iPad register stand, dual propane tanks, hand washing sink, hot water heater, burners with automatic safety shut off valves, complete internal power supply with inverter, two large deep cycle batteries and internal battery charger, large 140 can capacity cooler, chrome rims, detachable trailer tongue and much more
 All banners and signs, which include a large 2'x 5' outdoor vinyl banner with an outdoor banner stand and a custom Tiki menu board
Recipes for all of our sauces, which include four tropical relishes, three garlic sauces and mustards. (Of course you can change the menu to whatever you want, but one of the draws to our cart is the Hawaiian Style Hot Dogs. We have people drive from across the county and even from neighboring states just to get these dogs.)
All digital logo files
Approximately 15 screen printed t-shirts of varying sizes
Our website HawaiianHotDogCo.com, which you can easily update yourself
And much more!
This is literally set up for someone to immediately go out the next weekend with a unique cart that draws attention and makes money. From this cart I sell only 4:1's at $5 for the dog or $7 for a meal. On an average weekend, within a 4 hour period at the local farmers markets we have approximately 70 – 100 transactions.
Like I had mentioned, I'm not selling my business for lack of interest or because I think it's too difficult. It's quite the opposite. This business is extremely fun, you get to meet really good people and although it can be hard work, it is rewarding.
Thanks so much Steve!
**************************
Deal of a lifetime? One of a kind opportunity? Your only chance to own a business like this?
Yes. Yes. And yes.
Check out the pictures below then continue reading for all the details.
________________________________________
The following is an excerpt from the original article we ran on Derek's business. It gives you a great feel for how this unique food concept works…
Hello Steve,
I've always had an entrepreneurial spirit, so when I visited the Hawaiian Islands a few years back and ate one of the best hot dogs I've ever had at a small local restaurant, in the back of my mind I always thought, "How awesome would it be to do something similar, but put it on a mobile cart?"   I always had the idea festering in the back of my mind, but never acted on it because I thought a hot dog cart couldn't be very profitable.
After many years, my brother finally said, "You should just do it."  I did a little bit of homework and was surprised at just how lucrative a business like this could be.
I put all my ideas onto paper.  I knew exactly how the cart should look, what the menu should be, etc… Then I went out to see how much I could have a cart like this built for.  I was getting quotes for anywhere from $20,000 – $30,000 dollars!  I about fainted.
Undeterred, I figured, "I'm pretty creative and handy.  I'll just build it myself."   I spent countless hours researching online and finally came across your website, www.HotDogProfits.com.  I purchased your EZ Built Hot Dog Cart videos, the EZ Built Metal Secrets video and your Carts of Cash book.  If it wasn't for all of your videos, books, blog and website, I don't know if I could have done all this.
Well, here it is!  I just recently finished the construction of my cart and ever since it feels like I've been running nonstop.
Everything on this cart is custom built, from the frame on up.  I live in California and operate near the beaches of San Diego.  The health codes here are extremely strict and I had to provide so many additional features such as commercial refrigerator, Plexiglas food compartment and many more.
After fabricating four prototypes, I finally designed a spike toaster that could be ran off of propane and maintain a constant 275 degrees to toast our buns.  I then had to find a manufacturer that was NSF certified to make restaurant / food grade equipment.
Long story short, this cart was definitely a labor of love.  It took almost a full year to construct, but with only three weekends under our belt so far, the blood, sweat and some painful tears were all worth it.
People love our Hawaiian style hot dogs, they love the look of the cart and we've already been asked by multiple people to cater their private parties, which should be a lot of fun.  I've even been asked by other vendors if I could build them a cart.
Here's how our menu goes:
1. Grab a soft, freshly baked Hawaiian Sweet bread loaf that's been toasted from the inside out.
2. Choose your favorite Hawaiian tropical fruit relish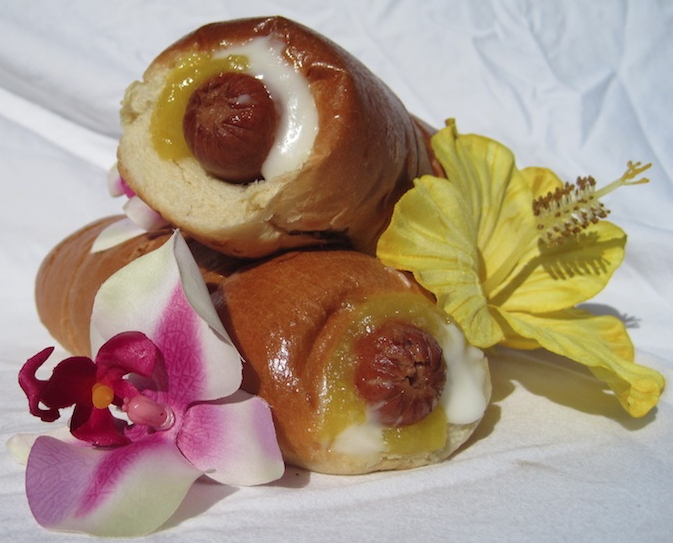 •    Coconut
•    Mango
•    Pineapple
•    Banana
3. Add a flavorful Secret Garlic Sauce
•    Mild
•    Spicy Jalapeno
•    Hot Habanero
4. Squeeze in some mustard
•    Pineapple mustard
•    Yellow mustard
5. Throw in a big 1/4 lb all beef hot dog
6. Enjoy with your favorite flavor Hawaiian Sun and a bag of Hawaiian Brand kettle chips.
It's so freakin good!!
Steve, thanks so much for always responding to all my emails so quickly and I've also got to thank my dad who made the long trip from central California to our house, multiple times to help me get this thing started and my wife and kids for motivating me to keep going when things got stressful.
Derek
Hawaiian Hot Dog Co.
****************************
Derek, I simply don't know what to say…
Impressed. Blown away. Thing of beauty. These phrases don't do it justice. This has to be the new King of the E-Z Built Hot Dog Carts.
It's very humbling to see what you have accomplished with our videos and plans set and I thoroughly enjoyed working with you and answering your questions as they came up. I knew you were up to something big, but I had no idea how big until I saw your pictures!
I always say, "Don't sell a hot dog – sell an experience." Derek, you knocked that one out of the park too! Your bamboo cart body covering, tiki decorations, island feel, colors, signage – even your coordinated chips and drinks give the customer a seamless Hawaiian Island mini vacation every time they come to your cart.
Pineapple mustard? That's what I'm talking about. Home run buddy!
This entire business is for sale. Do not wait, it will sell quickly. Contact info below.
-Steve
_______________________________________
Hawaiian Hot Dog Company Cart and Entire Business $18,000
If you are seriously interested in purchasing this business, please contact Derek at

HawaiianHotDogCo@gmail.com
Tell him Steve sent you.