Click here to get free hot dog business lessons by email.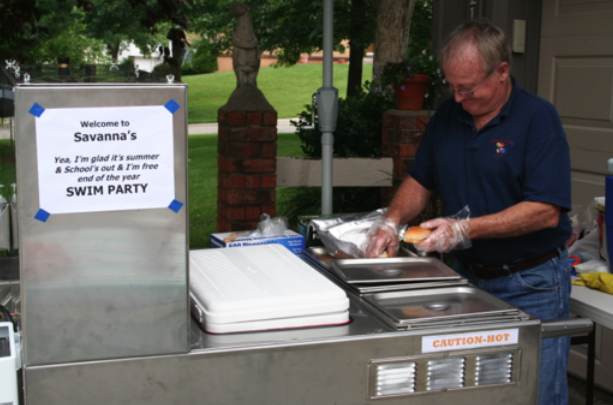 Jerry Collins just finished his E-Z Built Hot Dog Cart in stainless steel. It's a thing of beauty!
Hi Steve,
Thanks for the help and a great design.
Health Dept. inspection was smooth. Inspector was impressed that I had the critical points covered and I sailed right through.
Fortunately for me, my son-in-law is a sheet metal worker, so I was able go with stainless. I made sure I told the pump and water heater suppliers that I got their name from HotDogProfits.com.
Well, with the E-Z Built Hot Dog Cart plans and Carts of Cash book, you've done your part, it's now time for me to go out and do mine. I would recommend you to any newbie starting out.
I've included some pics.
Jerry
Tasty Dogs

The E-Z Built is designed to be made with wood so that just about anybody can build a hot dog cart. No special skills are required. We even show you how to cover the wooden cart body with thin sheet metal to get the metal look while keeping the ease of wooden construction.
But as you see here, the plans can also be adapted to full metal construction if you have those skills.
Once again, great job Jerry!
-Steve

Click the pic for a larger version.