Click here to get free hot dog business lessons by email.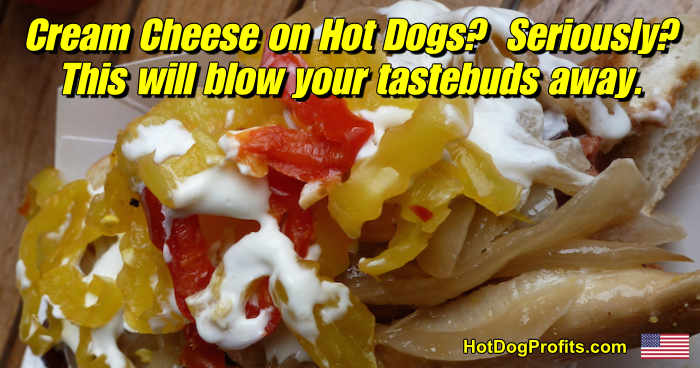 Cream Cheese on Hot Dogs?  Ohhhh yeah!
I received a great question yesterday from Hot Dog Profits Premium Member John K.
*******************************
I was wondering if anyone has any recipes to make my cart stand out. I do have about 15 condiments on my cart to cover everyone's taste; but I was wondering if anyone else has tried unique things like cream cheese on hot dogs?
John from NH
*******************************
Oh my goodness John, you've really hit on something big.  Offering cream cheese on hot dogs is one of the best things you can do this year.
Get em talking about you all over town.  Not only does it taste incredible, it's a HUGE marketing tool as well.  Once people find out that you are putting cream cheese on hot dogs, they won't be able to stop talking about it.
Why? Because it's something most people would never think of putting on a dog. And when folks try it their eyes roll back in their heads because the flavor combination is… Just. So. Good.
Go fer yer guns! Want to put on a show that will make you famous in your town? Apply the cream cheese on a steaming hot dog right in front of them… with a jerky gun (click here – this is a good one)! Massive word of mouth advertising will ensue, guaranteed.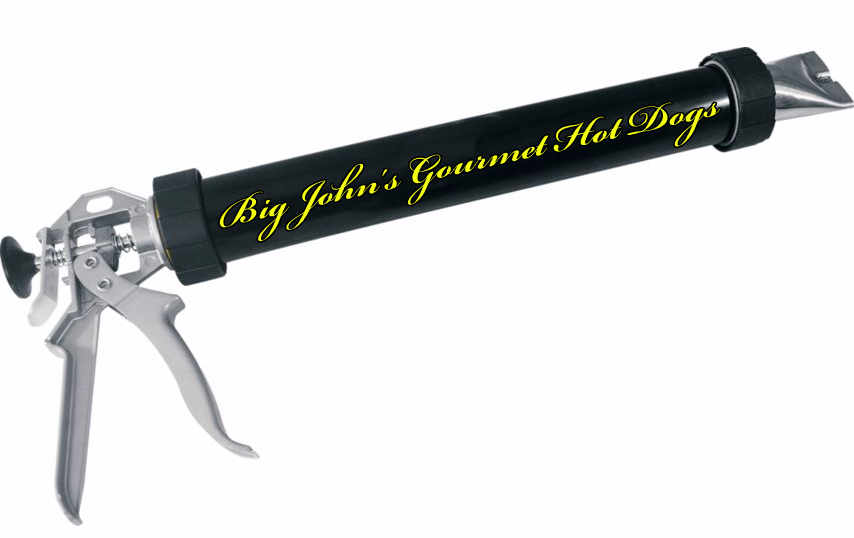 Build your brand while you're at it.  Get a small vinyl wrap or decal made with your logo to wrap around the tube of the gun. Great for branding your hot dog cart in the community!
You can also use a pastry bag.  It won't get as much attention as the gun but it works.  Whether you use a gun or a bag, be sure to keep it in your cooler between uses.  And as always, check with your local health department to be sure it's within code if you have any doubts.
Create signature hot dog menu items.  After you apply the cream cheese, you should experiment with additional toppings for a double whammy of flavor. Spicy works well, as does sweet.  Try pairing cream cheese on a hot dog with jalapenos or sriracha.  Or go the sweet route and add a splash of maple syrup or a few dollops of cherry pie filling.  I'm not kidding.  It works.  Here's an example to get you started.
Do you have a good cream cheese on hot dogs recipe or signature dog idea?  Let us know in the comments below!
-Steve
P.S. Do you have questions like John?  Hot Dog Profits Premium Members not only get access to all the books, videos, and courses that we've ever come out with – they also get direct access to me every day inside the private members area.  I'm always in there answering questions.  It's the closest thing to having me come out and work your cart with you.  If you want to join us, click here.