Click here to get free hot dog business lessons by email.
Holy smokes! This is the "greenest" cart I've ever seen, and I mean that literally.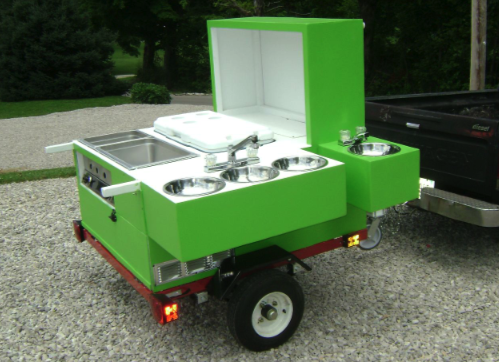 The first step in the sales process is getting folks to notice you and Michael Lane's newly finished E-Z Built Hot Dog Cart is guaranteed to stop customers in their tracks.
I think it's gorgeous! But what should he call it? Here's Michaels email…
Hey Steve,
Feel free to share the pics… Also have not settled on a name all the way. Could be " Dawg Waggin' "  or "Hotdogs "R" Us " or  "The Green Weenie" "Hot-Doggin".. I think we need to vote..  Give us an idea what sounds the best…
Thanks again Steve!
Let's have some fun with this. Instead of voting for one of Michael's business names, come up with your own. If you change Michael's mind and convince him your name is better than any of his, I'll give the winner  one of my products FREE!
Choose from:
HotDogBiz101 Platinum Package
E-Z Built Hot Dog Cart Video and Plans Package
Cash Tracker Bookkeeping Software Activation Code
Dog Sled
Chip Clips (2 pack)
If you were planning on purchasing any of these products between now and Sunday night,  go ahead. If you win the contest I'll refund your purchase.
The winner will be announced in Monday's issue.
Enter the contest as many times as you want,  but don't forget to congratulate Michael on an awesome E-Z Built Hot Dog Cart while you're at it.
click the pic for a larger version…
Now let's commence to namin'. Leave it in the comments below.
-Steve