---
UPDATE: Our FREE website offer is now open to everyone and it's better than ever!
BONUS: Get a free lifetime membership to the Hot Dog Profits Premium Online Training ($69 value) when you take advantage of this offer. We have 12 10 7 4 spots left.
This offer is now open to businesses of all types. Whether you sell hot dogs, sauces, landscaping services, or carpet cleaning, we'll build you a free website for it. Tell your friends, we'll build them one too!
These free websites now come 100% finished. You no longer have to upload your own photos and text. We do it all for you. CLICK HERE to get your free website.
---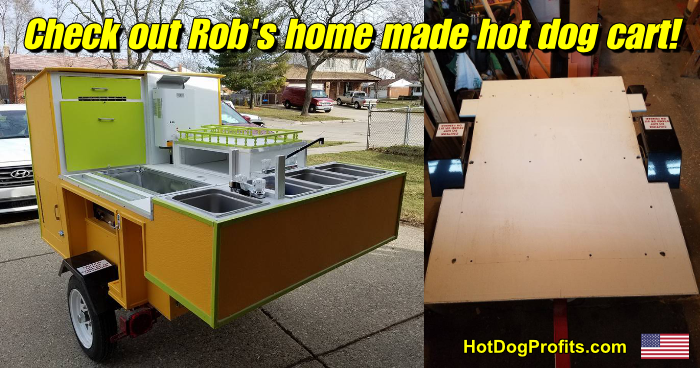 I just got these photos of Rob's home made hot dog cart. Very unique!
Rob writes…
+++++++++++++++++++++++
Steve.. I followed your video series and it was invaluable. I do not know how I would have completed this without you. I altered the plan and redesigned it and I finished the cart yesterday.  I look forward to your review.
Next is passing the food service test … easy peezy… getting licensed. I will reach out soon for the free website through your program. I did secure the email shadydawgmi.com. My cart does meet the requirements for my county that I received from their vendor dept people.
Sincerely,
Rob Noble
Shady Dawg of MI.
++++++++++++++++++++++++
Wow, Rob – great job!
This is the first slanted roof E-Z Built that I have seen. I like it!
Looks like your health department requires a four sink set up. Perfect.
I also really like the recesses in the cart body around the fenders.
Well done sir, well done!
-Steve
P.S. Let's hear it for Rob in the comments!
Click the photo for a larger version…