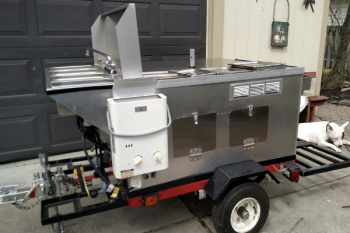 Hotdog Cart For Sale! Great condition, used approx 20 times.
Quick start up time! The unit has (2)-30,000 BTU burners, dual faucet sink with a flo-jet water pump, Eco-temp water heater, 6 gallon holding tank detachable rack (cooler, storage stand) and a speed rail for condiments. Frame 40?x 48 without storage rack. Gvwr 1000 1 7/8? ball hitch adapter available
This cart includes an umbrella, canopy, coolers, propane tank, pans, utensils, side table, table cloth, stress mat, 5 gallon coffee maker, 1 gallon hot pot, 4 wash tubs, easel, dry goods and more!
It comes with just about everything you will need to start right up. Also, I will provide the paperwork and the standard operating procedure book for licensing.
There are a couple of annual events that I have worked locally in the past, that I will pass the info along to the new owner as well as a location in Dearborn that was proving to be successful. It was previously licensed through Oakland County, Mi.
Asking price is $3,795.00, but it's negotiable. For more information please contact Jennie at 314-407-8214!
Click the photos below for larger images…