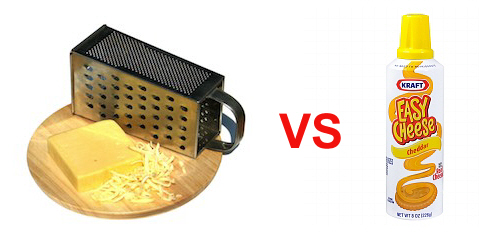 Hi Steve,
 I grate my own hot dog cheese from blocks, rather than buying the kind that's already shredded.
But my circular blade got damaged and I need a new system.
Any recommendations for quick and easy cheese graters? Maybe you could ask the vendors in your newsletter.
Thanks,
Dave Parker, Dogs For Dogs
*****************************************
Hi Dave,
I used to use grated cheese for my dogs but I must confess I never grated it myself. I bought the pre-shredded cheese in bags. I found it somewhat difficult to apply to the dogs as it would clump badly unless I kept it very cool.
I have since moved to Easy Cheese as the product of choice for my hot dog cheese. It is made by Kraft and comes in aerosol containers. It's definitely not "gourmet" but it is health department approved just about everywhere, needs no refrigeration, and you can make cool designs with it on the hot dog, LOL. I like the fact that it is quick and easy to apply, and doesn't make a mess on my cart.
That being said, I still believe that fresh grated cheese is the best way to make a true "gourmet" cheese dog, so kudos to you Dave for going the extra mile!
OK slingers, what say you? What kind of hot dog cheese do you use? Do you grate it yourself, and if so what device do you use to grate it? Please share your best hot dog cheese ideas in the comments below!
We can all learn so much from each other, myself included.
-Steve
{ 20 comments }