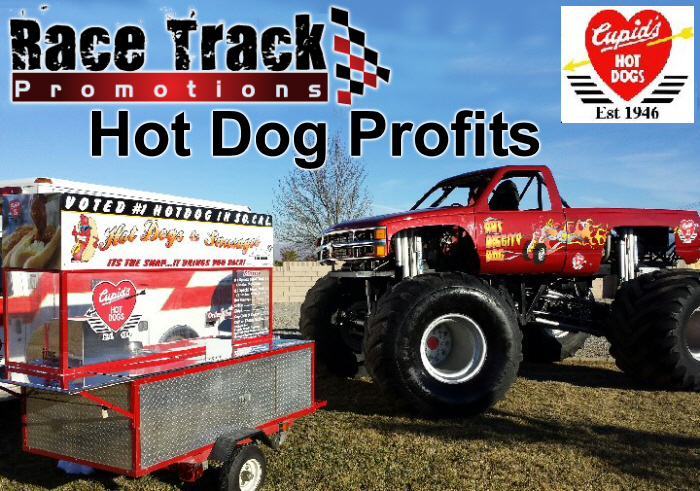 Toward the end of last year I was contacted by the CEO of Race Track Promotions, Steve Quercio. Race Track Promotions puts on awesome Monster Truck and Jet Truck shows around the country.
Race Track Promotions had recently teamed up with Cupid's Hot Dogs of Southern California and Mr. Quercio needed a website to promote the joint venture. The Hot Dog Profits team built a custom website for the RTP/Cupid's promotions and Mr. Quercio's team joined Hot Dog Profits Premium to learn how to sell hot dogs at these events.
The Race Track Promotions guys ended up building a really nice custom E-Z Built Hot Dog Cart from the video lessons inside HDP Premium. It came out awesome as you will see in the pictures below!!!
Steve Quercio writes…
*******************************************
Dear Steve,
 
I just wanted to take a minute to Thank You!!! I have no experience in the hot dog vending business, and had researched the different pitches on-line from other companies. You by far were the most professional, and educational.
I joined your group and paid the reasonable fee to obtain all your how to's. They worked perfect!
We used your photos and videos to build our cart. We wanted to take it to just a bit of higher level, but can certainly see how someone on a limited budget could build one as you claim.
Equipment: * NSF approved…4 Burner..Inverter…Re frig..Hot and Cold water…Ice Chest in front of cart..High Grade Stainless..Diamond Plate….Trailer as you suggested…
 
We have a Monster Truck, we named "Hot Diggity Dog" and a Jet Fire Truck that we hope to use as hooks to get good locations. We will put these wild exhibition acts on display FREE…If they let us set-up and sell our "Cupid's" Hot Dogs.
 
I would certainly recommend your expertise to anyone wanting to enter the hot dog vending business.
 
Please feel free to use the enclosed pictures of our finished E-Z Built Hot Dog Cart, and once again. Thank you so much.
 
Sincerely,
 
Steve Quercio
Race Track Promotions
******************************
It was a pleasure to work with you too Steve! Keep us posted on your promotions and events. We hope your relationship with Cupids Hot Dogs is long and prosperous for you both.
Great job on the cart!
-Steve
P.S. Here are the pictures that Steve Q. sent me. Click the picture for a larger version.
{ 12 comments }