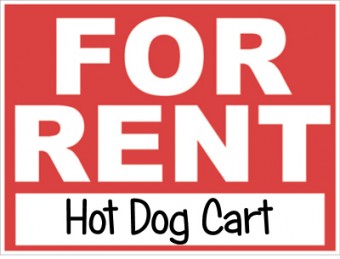 Just got this question from Cindyann via the contact form on our website:
From: Cindyann
Subject: how to lease my cart
Message Body:
I have a hot dog cart and would like to lease it out to be used by an experienced hot dogger. How do I go about finding someone to do so.
************************
Leasing your cart to someone for a daily, weekly, or monthly fee is the holy grail of hot dogging. I have never personally leased out any of my own carts so I'd love some reader feedback on this.
While I'm sure it has been done successfully, it does have drawbacks that are not immediately apparent on first glance.
1. Controlling your brand. If you have spent a lot of time and money building up a recognizable brand name, you put it a risk by handing it over to a non-employee. Yes, a bad employee can also do damage to your hard earned reputation but a lessor has even less to lose by messing things up.
2. Equipment damages. You better have a contract in place that has a damages clause in case the lessor damages your cart.
3. Liability. Will your current business liability policy (you do have one, right?) cover a person who is leasing your cart out. Check to be sure.
4. Experience is hard to come by. Let's face it, most truly experienced hot dog slingers have their own carts and finding someone who is reliable, clean, personable, and most of all honest is not as easy as it sounds. Lessors are in it for the short haul which attracts those who need quick money for a day or two and then disappear. Employees are a better long term solution.
5. Who provides the inventory? The hot dog cart owner or the lessor? If you leave it to the lessor you lose control over the quality of the product being served. Not a real big deal if you cart is unbranded, but it's a huge deal if you've already got a good name in the community.

How to find the right lessor.
If after reading this you still want to lease out your cart to someone I would try to find a lessor that I already know. If you can't find a personal friend to lease the cart, ask around in your circle of acquaintances to see if they know of anyone.
I would be leery of posting an ad on Craigslist for fear of having to weed through 40 bad candidates for every good one. That would take a lot of time.
I don't want to discourage anyone from going down the leasing path if that is their goal. If done right it is an awesome business model that provides a lot of leverage for the hot dog biz owner. Just be prepared to overcome the obstacles mentioned above.
How about it slingers? Would you ever lease out your own cart? Where would be a good place to find a decent lessor if you want to try out this business model?
-Steve
{ 20 comments }