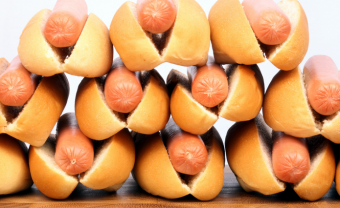 Hey Steve, I need some help.
I'm offering delivery because of the large medical complex near to my cart. This is my target market. The majority of these workers don't leave for lunch.
Is there any preferred way to keep the dogs hot when the customer gets them delivered?
I'm keeping my delivery circle to a 2 mile diameter. It's not like delivering a pizza with molten cheese on top to help keep the pie hot. Dogs may cool down quickly.
Do any other slingers deliver multiple orders and how do they keep the food hot when delivered in say within 20 minutes?
-James N.
*************************************
Great question James.
The key is a concept from physics called "thermal mass".  Without getting all "Einstein" here, thermal mass means the temperature times the mass of an object.
So, the hotter the dog, the longer it will stay hot. Or – the more dogs there are in an order, the longer they will stay hot. If you have both, that is the holy grail.
This means setting minimum order quantities, not only to keep the food hot but to maximize your profit margin on each order.
Wrap each dog in foil sheets, pack them close together (without smushing them) and transport them in a cooler. Yes, coolers keep things hot as well as cold. Use a cooler just big enough for your biggest delivery orders. The more empty space in the cooler, the less effective it will be at keeping things hot.
Make a Hot Plate. If you want to go high tech, have a machine shop cut you a piece of 1 1/2 thick aluminum plate about the size of a steam pan lid. Be sure it will fit in the bottom of your cooler. Keep that plate hot by letting it sit on top of your steamer.
When you get a delivery order, place the plate in the bottom of your delivery cooler and put the foil wrapped hot dogs  on top of the plate. This will keep them hot a lot longer because we have increased the thermal mass of our delivery order.
Don't forget to use your delivery cooler for advertising your cart. Get some vinyl graphics made with your logo, phone number, and website and apply them to your cooler. You could even do a full vinyl wrap! It's a great way to let everyone know who you are when your delivery person arrives at the office or factory.
How about you, slingers? Got any tips for James about doing hot dog deliveries?'
Lets talk about it in the comments below!
-Steve
{ 11 comments }