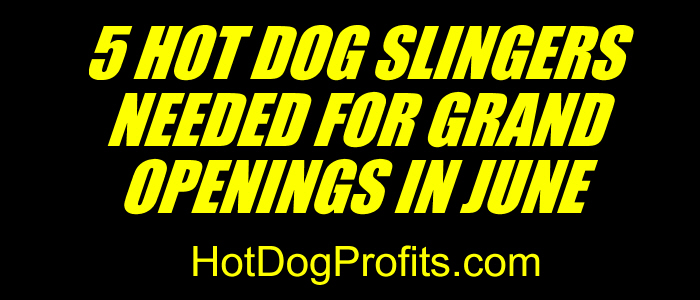 Hey Slingers,
I just got news of five Grand Opening gigs that need hot dog vendors in June.
All food is pre-paid by the promoter. All you have to do is show up and give away dogs at the Grand Opening.
You'll get $600 for your efforts.
We have posted these gigs in the past for this same promoter. He is legit.
Contact Mark for more info. His phone and email are at the bottom of this post.
-Steve
__________________________________
Hi Steve,
I need Hot Dog Cart vendors in 5 Florida locations on June 12 and June 13th. It's 3 hours on June 12thfrom 3 to 6 pm, and 3 hours on Saturday June 13thfrom 11 – 2 pm. It is a store Grand Opening event. You will give away 700 Hot Dogs each day, ketchup and mustard ONLY. I will reimburse you up front for all product costs and pay you $600 for your time. This is an excellent gig. I have references all over the country of other vendors that have worked for me. This will be the first round of many, many rounds of Grand Openings that you can participate in. You must be licensed!
Call Mark at 260.271.9144 or email at marklski@hotmail.com
LOCATIONS AVAILABLE:
Estero, FL
Orlando, FL
Kissimmee, FL
Plant City, FL
Melbourne, FL
{ 0 comments }