Best Hot Dogs in Nags Head NC
You'll find the Best Hot Dogs in Nags Head NC at…
Best Hot Dogs in Nags Head NC
Where can you find the best Hot Dogs in Nags Head NC? Tubb's Hot Dogs!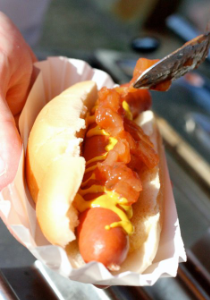 Tubb's Hot Dogs is a Nag's Head favorite. They are passionate about serving up the best tasting hot dogs on the Outer Banks of North Carolina.
Their hot dogs and spicy sausages are premium Boar's Head products topped with a wide selection of fresh, unique condiments.
Tubbs is also available for private parties, weddings, and company picnics. They cater events of all kinds.
If you want to experience the best hot dogs in Nags Head NC, you have to make a trip to Tubb's Hot Dogs.
Tubb's Hot Dogs is located in the Ace Hardware parking lot at the corner of Barnes and Croatan in Nags Head NC.
Open from May through October, weather permitting.
Website coming soon. In the meantime, be sure to visit the Tubb's Hot Dogs Facebook page.
If you're in Nags Head, stop by Tubb's Hot Dogs and try one of the best hot dogs or spicy sausages you've ever eaten!
Tubb's Hot Dogs in Nags Head NC- Reviews

"The hot dogs and the spicy sausage dog were great. The homemade chili is divine. Super friendly service. Highly recommend." – Tia Hagnes

"Most excellent! Yummy hot dogs & spicy sausage& friendly service!" – Joy Overton


"After a busy night at kellys we did an announcement about Tubbs hot dogs outside late night …omg it was delicious I hope it continues… thanks for the spicy sausagedog mmmmmmmm." – Marshall Earl Brewer
Click the pictures below for a larger version…
Tubb's Hot Dogs • 2718 S Croatan Hwy • (252) 564-4040