Click here to get free hot dog business lessons by email.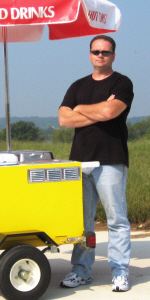 Steve is a full time hot dog cart business owner, author, trainer, coach, and consultant.  He has helped hundreds of people start their own hot dog cart businesses, first through his original books and audio CD series, Carts of Cash, his video series, The E-Z Built Hot Dog Cart, and A Day Behind the Hot Dog Cart, as well as his Cash Tracker Hot Dog Cart Bookkeeping Software.
Steve has personally worked with everyone from college students running a single cart on campus, to a former vice president of Wendy's Hamburgers regarding hot dog cart franchise operations.
Hot Dog Cart News (a product of HotDogProfits.com) is updated several times a week with stories you just won't find on your own.  We report the news, issues, and trends affecting the hot dog cart industry as well as delivering valuable information for anyone who wants to get started making money with their own hot dog cart.  You'll also find product, service, website, and manufacturer reviews that relate to the hotdog cart business.  Plus some stuff just for fun.
If you have your own hot dog cart business, or would like to start one, you'll want to check in daily for tips and resources that you can use to achieve your goals.
A Note From Steve…
Hey there, and welcome to Hot Dog cart News!  If I can help you personally, feel free to contact me by email at steve@HotDogProfits.com.
About me…
My last "real" job was in an auto parts factory in Chicago (where I grew up).  No I don't miss it.
Since then I started several small business, some successful, some not so much.  My big break came when I discovered the hot dog vending business.  I started my business with a home made cart for less than $500, grew the business into a permanent hot dog stand, and sold it to the highest of five bidders for a five figure sum.  I had to sign a non-compete agreement which prohibited me from selling hot dogs for a year after the sale and I used that time to write my first book, "Carts of Cash".  You can read all about it (including photos) at www.HotDogProfitsPremium.com.
Now my time is spent teaching others how to do what I did and more.  I have thousands of students all across America and overseas including Australia, New Zealand, Egypt, England, and Singapore.  I love the low stress lifestyle of the hot dog vendor (I haven't set my alarm clock for years), and if you know the secrets, the money is really great too.
So, if you've been thinking about getting into this business part time or full time, I'd love to help you get going.  
What's the first step? Click here to get my FREE Hot Dog Profits Newsletter.  I look forward to serving you.
To your success,
– Steve