How to Start Your Own Hot Dog Cart or Mobile Food Business the RIGHT Way – Without Spending a Fortune.
The Original Proven System Used by Thousands…
Home  •  Quiz  •  Used Carts  •  Free Lessons
Fun? Oh, yeah! Selling hot dogs is a super-fun and stress free way to make good money. In fact, this simple business has the potential to make $100,000 a year or more – if you go about it the RIGHT way. Read on…
You can do this part time on weekends for extra cash, or make it your full time profession. And now with the proven Hot Dog Profits system, you can achieve success much faster and for less money than ever before.
"I've wanted to have my own hot dog cart for years!" If that sounds like you, then today is the day you've been waiting for.
This website will show you how to finally achieve the dream of owning your own successful mobile food business, in under 30 days, for way less than you ever thought possible. The proven Hot Dog Profits Premium Training has been used by thousands of folks just like you.

Avoid these "business killing" mistakes. The fast track to success avoids embarrassing and costly rookie mistakes, the kind that can permanently stunt or even kill your business before it ever has a chance to take off. This is critical because you will only get one chance to make a good first impression.

What people say about your food and your service will make or break you in the first few months. In this day and age your customers will be talking about you on Facebook, Yelp, and other social media websites. Word of mouth happens at the speed of light which means you don't have the luxury of trial and error. You have to nail it right off the bat.
Here's how to do it RIGHT from day one. Fortunately you don't have to reinvent the wheel. The hard work has already been done for you. Now you can follow a system that has been proven to create successful hot dog businesses over and over again, just like Mark did…
Steve, I was on television a couple of hours ago. I did not get to say everything that I wanted to during the interview but at least I was able to mention you. You have really helped me out with the "Carts of Cash" course and the "E-Z Built Cart" plans (included with HotDogProfitsPremium.com). The cart is great and I really outfitted it well. Thanks for everything!
-Mark Ohare
Owner, Mark's Top Dog
What is Hot Dog Profits all about? Maybe you came here to find out how to get started, or how to build your own hotdog cart? Perhaps you're already slingin' hot dogs and want to take your business to the next level. In either case, I built this website to help you succeed with your own mobile food business, just like I have.

A long string of industry firsts. HotDogProfits.com is the original all-inclusive mobile food business training company. As you would expect from the industry leader, HotDogProfits.com was the first to bring you almost every major innovation in the food cart industry in the last five years including…
HDP Was First to Let You BUILD It – We show you how to build your own hot dog cart from hardware store materials with our 5 DVD series, "The E-Z Built Hot Dog Cart". Designed from the beginning for easy customization, no special skills required.
HDP Was First to Let You MANAGE It – We teach you how to run your hot dog cart and manage your business like a pro with the largest and most in-depth mobile food business training course in the world, "Hot Dog Biz 101" (people in the business refer to it as "the hot dog cart bible").
HDP Was First to Let You TRACK It – Now you don't need to know bookkeeping. Keep track of your earnings with the click of a button using our "Hot Dog Cash Tracker" bookkeeping software. We developed this original software here at HDP specifically for food cart business owners.
HDP Was First to Let You SHARE It – Look over the shoulders of professional hot dog vendors at work with the original "Hot Dog Cart News". HCDN is the first newsletter for hot dog vendors. Your free subscription comes with over 517 issues! Yes, we've been around a while.
HDP Was First to Let You HEAR It – "Hot Dog Cart Radio" is the place to hear interviews with successful hot dog vendors. Get tips, tricks, and the inside scoop about starting and running a profitable hot dog cart business. This is one of our most popular features – enjoy!
HDP Was First to Let You HEAT It – We pioneered the use of the self contained hot water on demand system that is now standard equipment on many hot dog carts.
We build businesses. All day. Every day. Helping you succeed is not something we do on the side. It's what we do all day long. Showing you how to build your own hot dog cart, teaching you to make money with it, and supporting you along the way is what gets us all jazzed up. And we do it better than anyone else because training and support is our primary business.


We care about you more. Our customer service doesn't stop after you make a purchase. That's when it goes into overdrive. We're always available to answer your questions and to help you whenever you need it. Since training and support is all we do, we don't get annoyed when you need help.

No call centers here. You won't get some guy with an foreign accent who calls himself "Johnny". We do business here in America on our own personal cell phones. When you call our toll free number I'll probably be the one who answers. I LOVE talking to my customers.
I'm a real life slinger. Yes, I still have my own hot dog vending business, and I always will. It's too much fun to quit! That's me and my E-Z Built Hot Dog Cart in the picture below.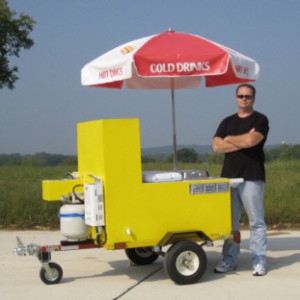 Experience counts. I've started, grown, and sold my own hot dog cart businesses. I've designed, built and marketed my own line of mobile food carts. I write and publish the most respected series of hot dog cart training books, videos, and bookkeeping software in the industry. I publish the original and longest running newsletter, "Hot Dog Cart News", which gives me the opportunity to interact with thousands of hot dog "slingers" on a weekly basis. I've even consulted with the vice president of Wendy's Hamburgers on a national hotdog cart operation for disabled American Veterans. And I'm here for you.
If you want to ditch the alarm clock and be your own boss, if you want to make great money selling tasty hot dogs to smiling customers in the fresh air, if you want to be a "slinger"… it's critical that you learn the business from someone who is truly qualified to help you. I don't hide behind my websites. I answer my own phone and email. Like I said, I'm here for you.
What's the first step? Take our FREE Hot Dogger Biz Quiz and learn how well you would do behind the cart. You will receive a free personalized success profile based on the answers you provide. Do you have what it takes to succeed in the hot dog biz? The results of your quiz just might surprise you!
Welcome to the "dogosphere"! Go ahead and take your quiz and let me know how else I can help you!
-Steve Schaible
Owner of HotDogProfits.com and author of the HotDogProfitsPremium.com training program.
"The Gold Standard in Food Cart Training"