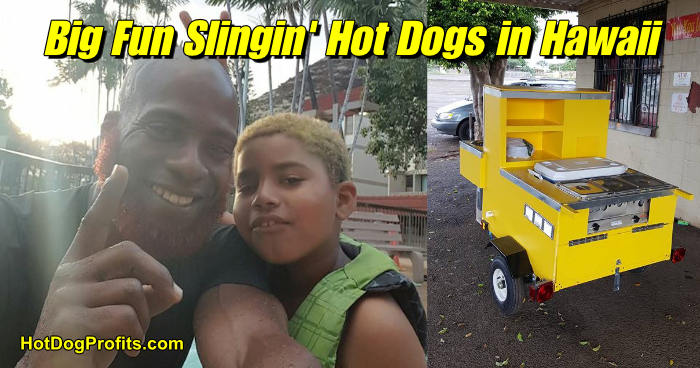 This just in from HDP Premium member Noelani and her family in sunny Hawaii…
Hey Steve, 
You are our Mentor and We Mahalo you very much from Hawaii. We have started selling hotdogs about a month now and we are having FUN, and making money $$$$ business is awesome. We sell Nathan hotdogs we not only sell hotdogs we sell chili-dogs, chili cheese nachos and chili bowls with rice and hotdogs. We Hawaiians love rice. We just recently did a test run on cheeseburgers. FAILURE LOL and it was too much work. Too time consuming.
We are in the process of adding yet another item, waffle dogs. What makes us busy is our sauces. We have made sauces and I just recently started with a pineapple relish, and mango relish, soon to add coconut relish, guava relish, kiwi relish and papaya relish 
We are in a local swap meet 3 times a week….it's kind of a grungy location but I don't mind they bring in a good crowd for 3 days a week.
Noelani, Hot Dog Profits Premium Member
++++++++++++++++++++++++++++
Great job Noelani! Your E-Z Built cart turned out great and I'm glad you are having fun and making good money too!
Noelani and her family are some of the nicest people I've had the pleasure of meeting inside the Premium area. They displayed a great "can-do" attitude all through their start up and have really begun to take off in Hawaii.
Let's hear it for Noelani and her crew in the comments, slingers!
-Steve
Click the pictures below for a larger version…
{ 6 comments }